Three members of the Guyana Defence Force were killed on the spot this morning when pyrotechnic material exploded as it was being prepared for destruction at the GDF Base Camp Stephenson at Timehri.
The three dead soldiers have been identified as 23-year-old Lance Corporal Kevon Nicholson of New Amsterdam; 28-year-old Lance Corporal Tooney Peneux of Orealla Village, and 20-year-old Private Shaqueel Deheart of West Coast Berbice.
Two other soldiers were injured. One remains hospitalised at the Georgetown Hospital while the other was treated at the GDF Base at Timehri.
The explosion and deaths are now the subject of a Board Inquiry by the Guyana Defence Force.
The incident occurred around 9 o'clock this morning and persons in the Timehri area reported hearing the loud explosion and seeing a section of the military base covered in smoke.
The three soldiers who died appeared to have been killed instantly by the blast. Their clothes were burnt off their bodies and their faces and upper body were completely scorched.
The Fire Service assisted in dousing the area that exploded and the GDF's helicopter was used to transport one of the injured ranks to the city.
In a statement this afternoon, President David Granger expressed his sympathy and said he is saddened by the loss of life. He has offered his sympathy to the family of the three soldiers.
This is the second time within two months that a pyrotechnic blast has resulted in fatalities for the military.
Back in February, one soldier was killed and at least eight others injured as they were preparing pyrotechnic material for a fireworks display.
A Board of Inquiry was also launched after that incident but the outcome of the investigation has never been made known.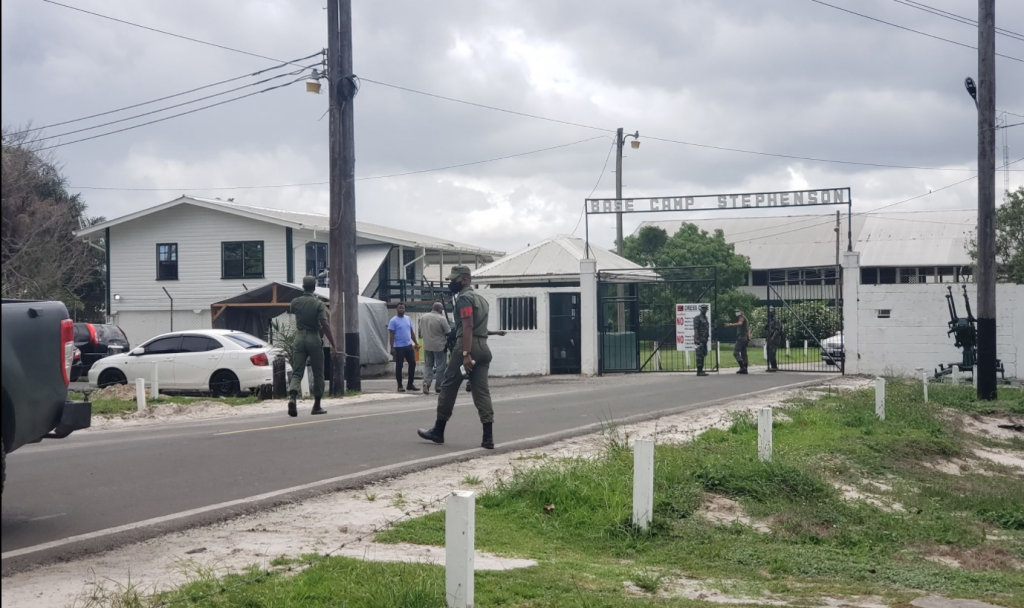 News Source understands that there is growing concern and unease in the Guyana Defence Force about the storage and removal of pyrotechnic and other explosive type material that have been locked away for years.
A senior military source has expressed concern to News Source that there is the storage of a large quantity of similar material at another military base that was the scene for a similar explosion several years ago. That explosion also claimed a number of lives.
The officer said the GDF may need to involve more technical help for the removal and destruction of the aged material.