The Traffic Department in the Police Force's 'A' Division edged out the Criminal Investigation Department to secure the coveted Best Cop award for 2017, after several years of the award consistently being given to police investigators.
Sergeant Gavin Boyce, who is known mostly for his ardent efforts to control traffic in the busy downtown Stabroek area is this year's 'A' Division Best Cop.
He received several monetary and other awards from the Police Force and the Corporate community. Boyce was promoted to Sergeant in 2015 and single-handedly made out 1000 cases so far for 2017 and is being hailed as the 'A' Division's best traffic enforcer.
Boyce's runner-up is Sergeant Rudolph Sarabo, a police investigator who was instrumental in the breakthrough in the Freeman Street murder case, Godfrey Scipio's murder and the Republic Bank robbery.
He also received several awards at the annual Christmas luncheon and award ceremony at the Brickdam Police Station on Tuesday.
Commander Marlon Chapman said he was particularly satisfied with the work of the traffic department in 'A' Division.
He said it was the Division's excellent work that caused a traffic rank to be adjudged the Best Cop and extended congratulations to Head of the Traffic Department, Superintendent Deon Moore.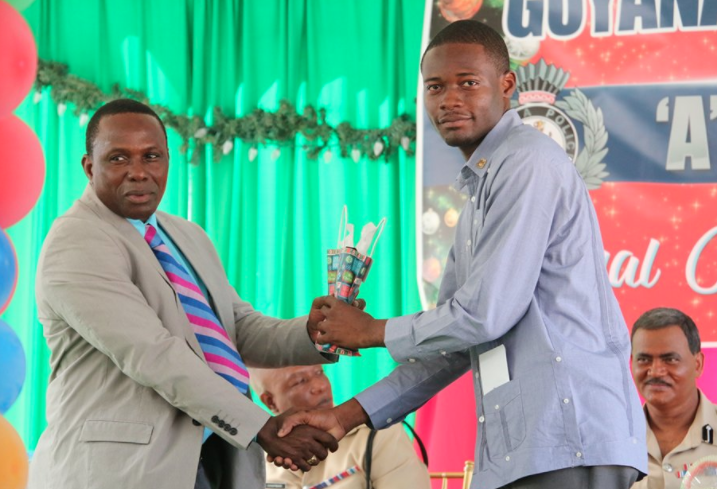 The Commander reported that there has been a 5% reduction in serious crimes in the division.
"It's not enough and more will be done… We cannot stop crime but can suppress it and that's the intention." Chapman highlighted the work done by the police during the bank robbery earlier this year and the recovery of over 50 firearms.
He said the Division is now concerned with the incidents of carjacking and break and enter.
Meanwhile, Commissioner of Police (acting) David Ramnarine in his Christmas message said the request for Police services was increasing all the time and urged ranks to understand the need for them to perform optimally.
"Some of your colleagues in uniform did bring disgrace to the Force over the year but we need to move on, not just anyhow or somehow but with greater commitment and ensuring that the mistakes of the past are not repeated."
He told ranks to have fun during the season but to also remember that they remain Police officers whether in or out of uniform.