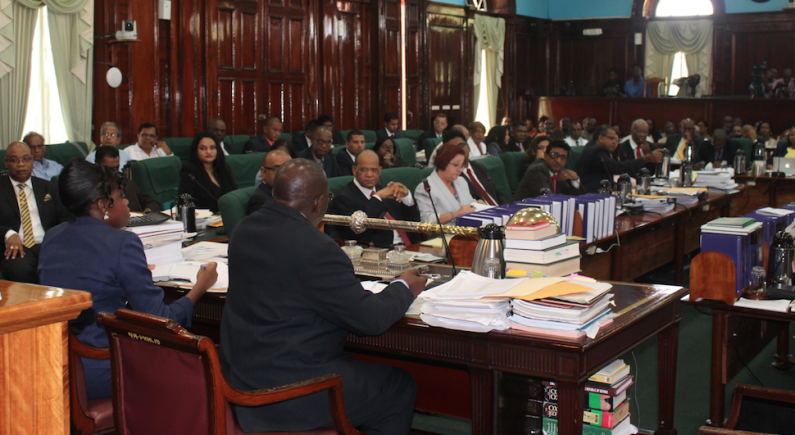 Former President Bharrat Jagdeo and the opposition People's Progressive Party came in for harsh criticism on Thursday night over what the government said is gross disrespect shown for the executive and President David Granger.
Natural Resources Minister Raphael Trotman told that National Assembly that the opposition continues to lecture the House about disrespect when it is guilty of being disrespectful.
"We were lectured yesterday about respect and disrespect and I feel it is my duty to point out some glaring examples, and not just for the sake of doing so, but to ask how long will we continue as we are?"
Mr. Trotman said gross disrespect was shown when the Minister of Finance delivered his 2016 budget to the House and the Opposition Leader chose to spend that entire time sitting in the coffee room of the Parliament, rather than be present in the Chamber for the budget presentation.
Trotman, who is a former Speaker of the National Assembly, said Jagdeo's actions showcased a lack of respect for the Finance Minister. He said former Opposition Leaders including, Desmond Hoyte Robert Corbin and President David Granger never disrespected any PPP Finance Minister in that manner.
"It is time for change Mr. Speaker," he added. Trotman said the PPP also showed disrespect when the party was invited to be part of joint committees and it was met with refusal.
"In the past when invitations came from the Office of the President, the APNU+AFC opposition never failed to show up. We always respected the office," he added.
Trotman said too that the PPP was also disrespectful when it failed to honor the Herdmanston process by not taking up seats on several State Boards.
His comments were met with an uproar in heckling from the opposition benches in the House, but he was not moved by the noise.