The pilot and crew of the tugboat that slammed into the Demerara Harbour bridge early this morning, shifting it out of alignment and forcing its closure, have been taken into Police custody and are facing questioning.
All of the crew members are believed to be Panamanian nationals. None of them speaks English. Interpreters are assisting with the questioning.
Demerara Harbour Bridge General Manager Rawlston Adams told reporters this afternoon that the tug and barge were not booked to travel this morning and from all appearances, the two were far from their anchoring point, which should have been in the Craig and Grove area.
He explained that the tug and barge were heading in the northern direction and it's unclear what caused them to drift into the bridge.
"The barge came into contact with the bridge on two occasions, span 12/13 and again at span 16. We saw some severe damages…The bridge is completely out of alignment between the highest span and the retractor span. This morning we were able to replace the connecting posts at span 13 and that was to facilitate us moving over to span 16 and getting equipment over to span 16. We had to put in some temporary decking and we will be working at span 16 to reconnect the connecting posts", Mr. Adams explained.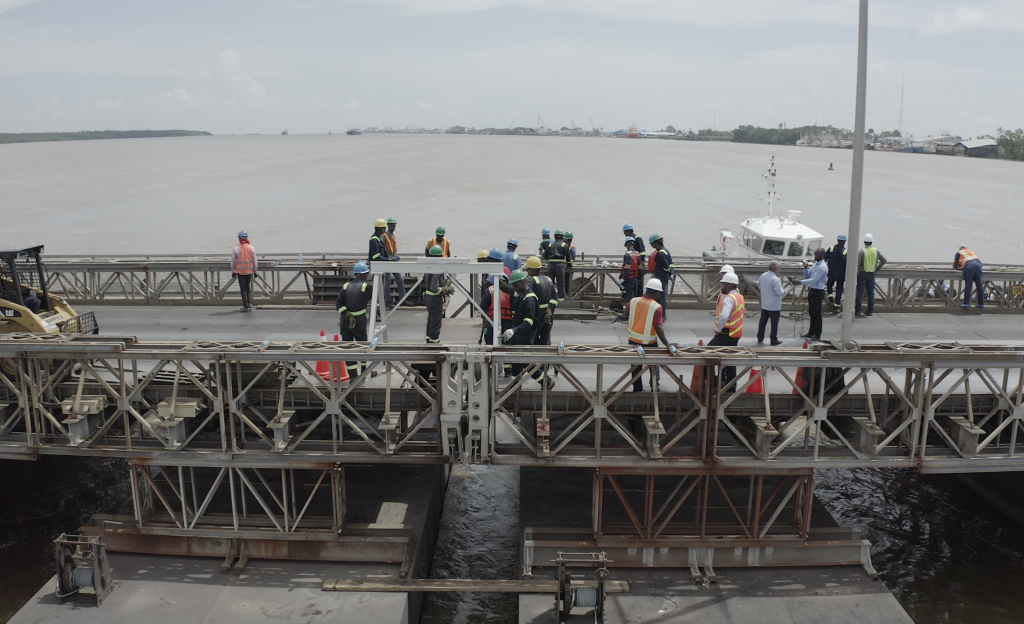 The repairs works were suspended around noon today as the high tide came rushing in.
Mr Adams explained that once the tide goes back out, the workmen will be able to retrieve all of the anchors and continue with the repair works and getting the bridge back into alignment.
Just before the accident occurred, the pilot of the tug sent out a distress signal to the lighthouse, thereby activating an emergency.
However, that signal was sent out just moments before the barge slammed into the bridge.
Mr. Adams said workmen and other staff attached to the bridge responded and activated all emergency procedures, completing shutting off the bridge to all traffic.
A car that was traversing the bridge at the time got damaged as the plates shifted on the bridge, but there were no reports of any injury.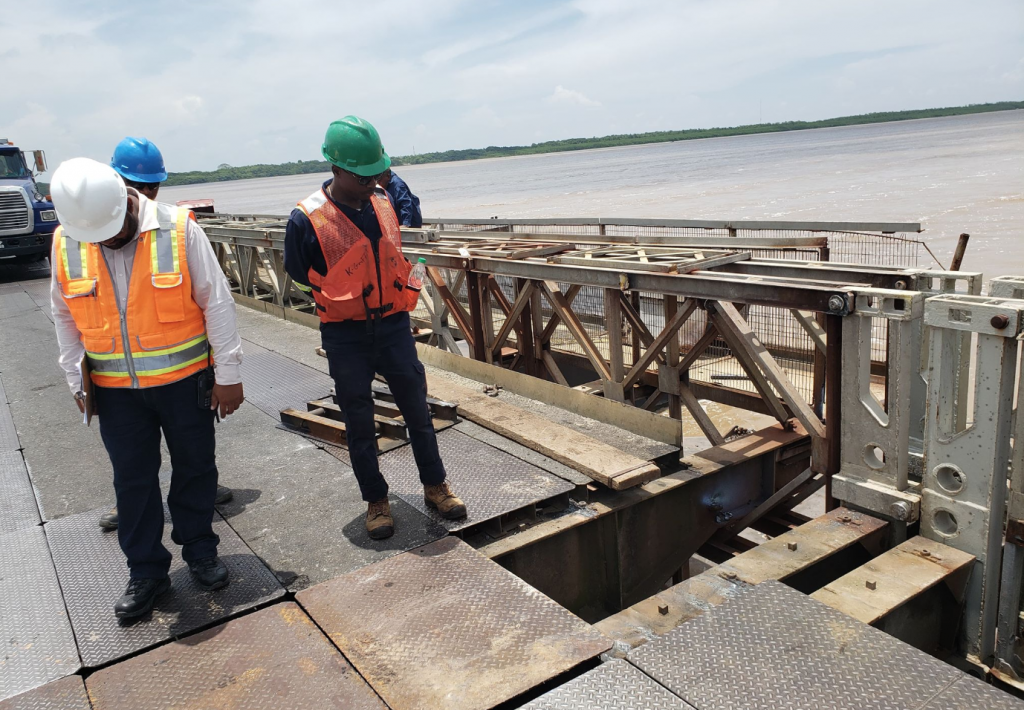 Members of the media were taken on a site visit along the bridge this afternoon and given a first-hand look at the damage and the level of work that is underway.
The management of the bridge is hoping that most of the repair works will be completed by early Tuesday morning to facilitate the reopening of the bridge to light traffic.