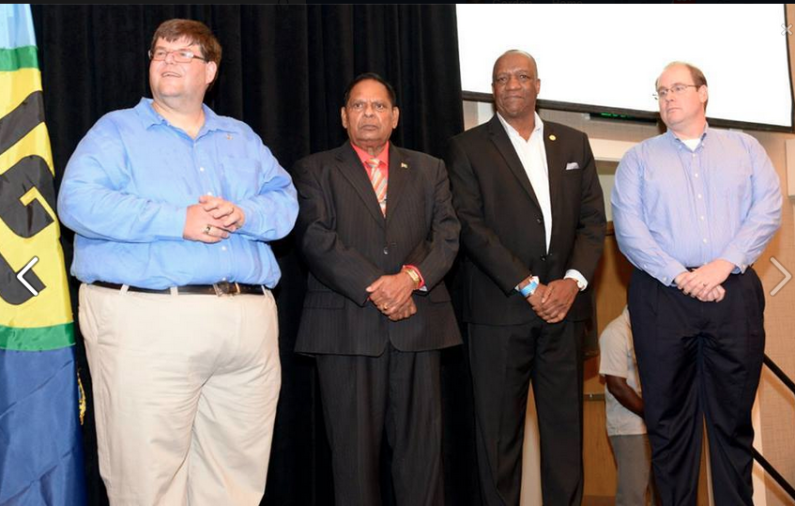 The United States has pledged its support to the new David Granger led administration.
On Thursday evening, the US Embassy in Guyana hosted a reception to celebrate the 239th Independence anniversary of the United States of America.
At the reception, which was hosted at the Guyana Marriott, Chargé D'Affaires of the American Embassy, Bryan Hunt said the U.S is very pleased with the new government's commitment to holding Local Government Elections before the end of 2015 and the recent passage of the "fully compliant" Anti-Money Laundering legislation.
The U.S official recalled the famous "feral blast" that former Ambassador Brent Hardt received from the former People's Progressive Party government at last year's US Independence reception over his push for local elections.
Reflecting on the past year in Guyana, Hunt said he is grateful for the many learning opportunities that working on the relationship between the two countries have afforded him.
"I now better understand the definition of a feral blast, the intricacies of prorogation and the critical importance of international election observation. Thank you to some of my friends in Guyanese politics for the rapid and unexpected education. I hope that your next lesson will be on how to form a vibrant parliamentary opposition," Hunte said as several former government officials, including former Natural Resources Minister Robert Persaud and former Home Affairs Minister Clement Rohee stood in the audience.
As he proposed a toast to President Granger, who is at the CARICOM Meeting in Barbados, the Chargé d'Affaires disclosed that the U.S government and Guyana were exploring new avenues for collaboration and he urged Guyana to eliminate all forms of discrimination.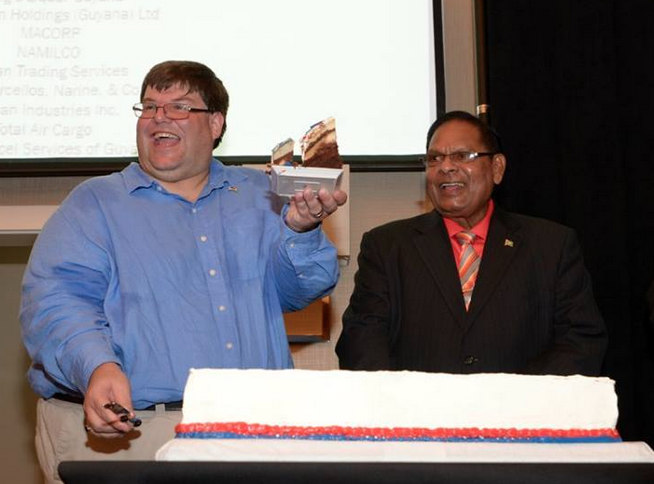 "A revitalized security and counter narcotics relationship is already beginning to yield results… similarly we want to help our friends in Guyana further explore alternatives sources of energy, including hydropower," he added.
He said the US remains committed to the USAID SKYE programme where it trains and educate at risk youth in life and work skills.
Guyana's Prime Minister, Moses Nagamootoo was greeted with a walk out by PPP General Secretary Clement Rohee when he addressed the gathering and delivered greetings on behalf of President Granger.
Nagamootoo congratulated the US on its Independence Anniversary and said Guyana is optimistic too that it can harness greatness through the utilization of its people and wealth in a similar manner to the USA.
"For us the key to achieving this is good governance and national unity both of us our government is pursuing… I want to thank you Mr. Chargé d'Affaires for you role in verifying credible elections and the role of the USA," he added.
The Prime Minister said the new government hopes to get rid of bad governance, corruption and lack of accountability. He said the new administration seeks to forge a new democracy.
In a bold statement, Nagamootoo said that "there will be no more feral blast at any of these occasions. I wish to lift that curse of damnation from Ambassador Brent Hardt and to acknowledge that his advocacy for local government elections has borne fruit."
The event saw the traditional cake cutting and the National Anthems of both countries were performed by Guyanese singer and new Miss Guyana World, Lisa Punch.  (Kurt Campbell)