The University of Guyana and the Guyana Police Force have signed an agreement that will see the University developing academic programmes that will form part of the training of members of the Police Force.
UG Vice-Chancellor, Dr. Paloma Mohammed signed the agreement on behalf of the University while Acting Deputy Police Commissioner, Calvin Brutus inked the deal on behalf of the Police Force.
Mr Brutus said the agreement comes after intense discussions with the University about the academic needs of new and continuing officers in the Police Force.
He said through the agreement, modules will be developed for Police ranks, to ensure that the Force delivers on its mandate in keeping with best practices for the Police in the country.
"We recognize that based on our recruitment policy there is that burning need not only for development at the tertiary levels but also at the lower levels because of the sound primary education requirement to enter the Guyana Police Force. This Memorandum of Agreement is intended to address the various levels and to develop our ranks from that sound primary education level in the shortest possible time…depending on their ability to learn, the university will deliver that knowledge to them up to the level that is required to meet our demands to provide security for our nation," Brutus said.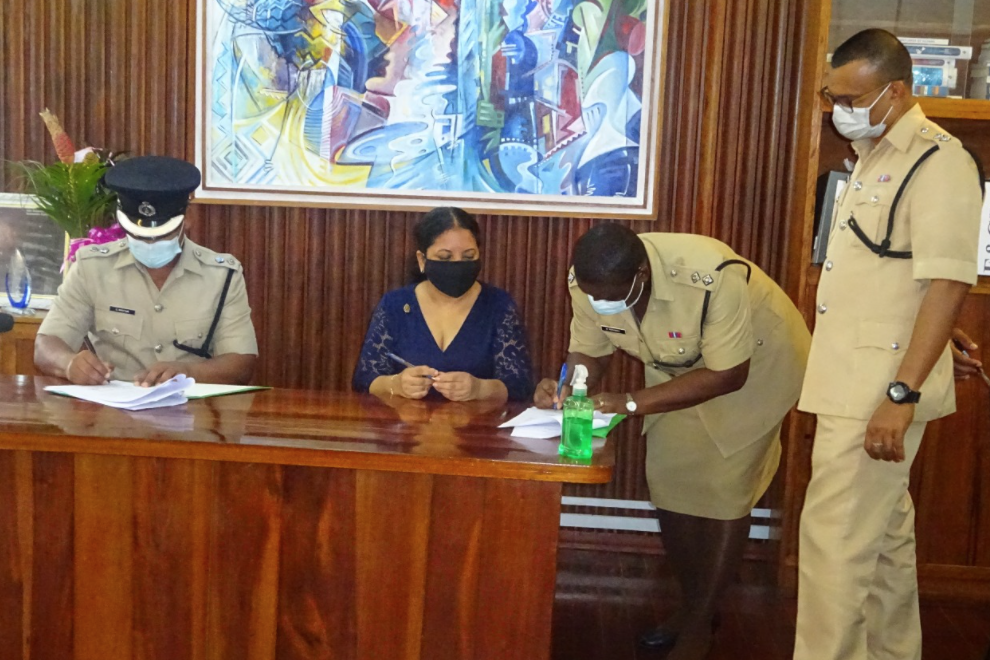 The agreement caters for a range of programmes to be developed, with a few others to be refined.
According to the Police Force, part of the agreement seeks to address accreditation of the Police Training College.
"Our college is just by name but the substance and the standard is not there. Our intention under this agreement is to ensure that we will be able to achieve this mandate which is to have our college accredited in the shortest possible time, as well as train our instructors to deliver the professional part of the programme," Brutus said.
Vice Chancellor, Dr. Paloma Mohamed expressed satisfaction with the agreement since it comes in a wide national strategic context. She said that context will allow for more transparency and a more service-oriented Police Force with diversified services across the country.
The Vice-Chancellor also believes the agreement allows for a more focused and accelerated path for the reformation plan of the Guyana Police Force.