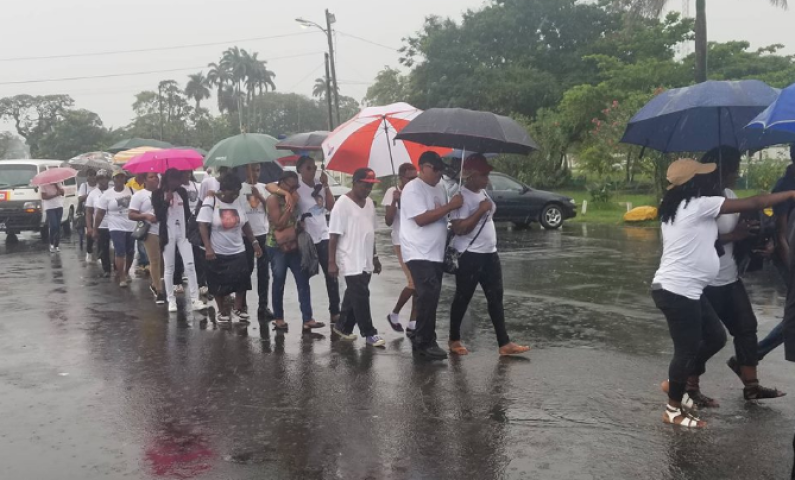 Today marked 10 years since family members received the dreadful news of the murder of eight miners at Lindo Creek, Upper Berbice River.
But even though a decade has passed, relatives are still not sure of the specific final resting place of the miners.
The still distraught and unforgiving relatives commemorated the anniversary with a march and wreath laying ceremony at Le Repentir Cemetery, braving a midday shower to pay their respects.
Surviving parents, children and siblings of the dead miners were inconsolable once they got to the cemetery where only three tombs were identified as the resting places of the eight miners.
Many persons didn't know where to lay their wreaths and broke down in tears even as they recalled the distress of the last ten years, characterized by a lack of closure and hopelessness.
But some of them believe that hope may be on the horizon as they await the final report of the Commission of Inquiry into the June 2008 murders.
The relatives were joined by members of the COI including Commissioner, Justice Donald Trotman who also took part in the activity of laying wreaths.
The mother of murdered miner Dax Arokium, Jacklyn Arokium told members of the media that since 2015 she had been taking care of two tombs that she was told contained the remains of her son.
She said she was most distressed when she recently learnt that her son's remains may not be in any of the tombs which she tiled and kept clean. Instead it was in another tomb where five other miners who were burnt beyond recognition were placed.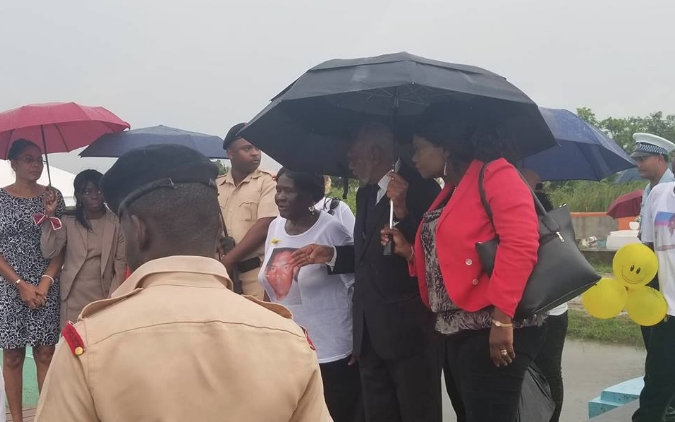 The woman said she remains unforgiving of those who murdered her son but is hopeful that the COI will bring closure to the issue.
Meanwhile, other relatives are preparing to make submissions to the state in which they are seeking financial and other assistance.
Relatives recalled the last 10 years of suffering and setbacks as many of the men who were killed were the bread winners of their families. They died leaving wives, children and other dependents behind, many of whom were present on Thursday.
According to Natalie Hinds, the aunt of murdered miner Horace Drakes, she is unforgiving of the officials of the last government who failed to sympathize with her.
She was in high praise of the David Granger led administration for facilitating the COI and their willingness to help the family in moving forward.
The final report of the COI is expected to be submitted to the President by the end of July.
The miners who were killed and burnt beyond recognition at Lindo Creek were Bonny Harry, Horace Drakes, Dax Arokium, Cecil Arokium, Nigel Torres, Clifton Wong, Lancelot Lee and Campton Spears.