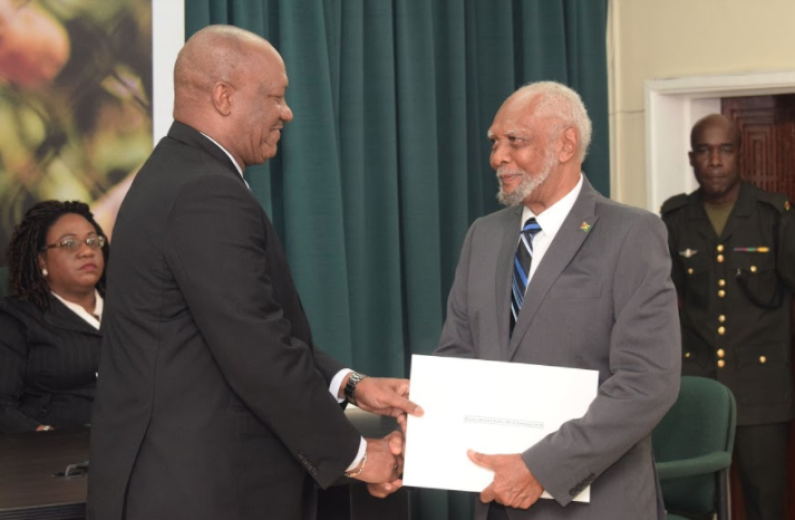 Former High Court Judge, Donald Trotman, was today sworn in as the lone Commissioner of the Presidential Commission of Inquiry into the massacre at Lindo Creek.
The oath was administered to him by the Chief Magistrate, Ann McLennan and witnessed by the Minister of State, Joe Harmon.
Eight miners were brutally murdered and burnt beyond recognition in the 2008 Lindo creek attack that remains an unsolved mystery, although several suspects were named over the years.
After being sworn in, Justice Trotman told reporters that he is pleased that he has been asked to probe the incident and get to the truth.
"To find the truth is sometimes very difficult…but knowing the truth in circumstances such as this is of the greatest importance", he said.
Mr. Trotman said the Commission will do its best to achieve its objectives and he hopes that persons who might have information about what took place at Lindo Creek would come forward with  the information.
Minister of State, Joe Harmon explained to reporters that the Commission has been initially given a three month period to complete its work. However, he noted that more time could be made available if there is a need for more work to be completed.
The Commission will inquire into the death and the circumstances that led to the death of the eight miners. It will be expected to offer recommendations on any person or organisation that may be deemed responsible in any way, based on the findings.
"We will not put a fetter on the Commission but there are clear terms of reference that allows the Commission to find the truth and to basically, as the Commissioner said, let the truth set us free", Mr. Harmon noted.
The State Minister said a decision was made to have the Lindo Creek incident be probed first because it was the last of the massacres and although it took place 10 years ago, it might still be fresh on the minds of those who may come forward as witnesses for the Commission.
The miners who were killed at Lindo Creek were Lancelot Lee, Bonny Harry, Nigel Torres, Horace Drakes, Compton Spires, Clifton Wong and brothers, Dax and Cedric Arokium.
Samples of their remains had to be sent overseas for identification since their bodies were burnt beyond recognition.
A number of other Commissions of Inquiry are to be held to examine other incidents that were part of the deadly crime spree that took place between 2003 and 2008.
More than 1400 deaths that were recorded during that period.