The Ministry of Natural Resources wants to see gold declarations hitting the  700, 000 ounces mark next year.
Natural Resources Minister Raphael Trotman told a media briefing on Thursday that the Government is looking forward to all miners producing and declaring high numbers in 2017 .
Minister Trotman, while addressing the media at a year-end press conference explained that in 2016, the Ministry of Finance had projected a gold declaration target of 550,000 ounces, an increase of 21.8 % over the previous year's target. However, the Ministry, the Guyana Geology and Mines Commission (GGMC) and the Guyana Gold Board (GGB), privately worked towards a different target which was 650,000 ounces.
"As announced in the National Assembly recently, we surpassed that target. Today, I am ecstatic to announce that declarations stand at an unprecedented and whopping 690,000; the highest gold declaration figure in any calendar year in the history of gold mining in Guyana," Minister Trotman declared.
The Natural Resources Minister pointed out that this success was as a result of the hard work of small and medium- scale miners who delivered the majority of this gold, along with Guyana Goldfields and Troy Resources, which contributed  70% of the gold declared.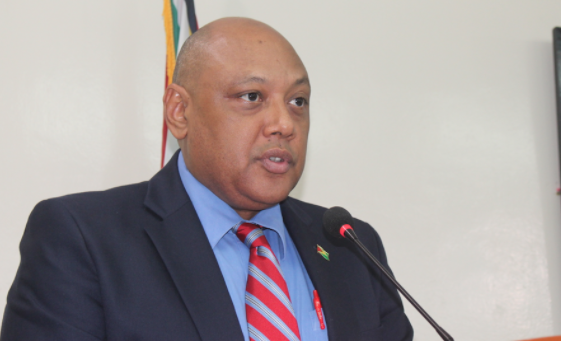 He recalled that when the coalition government took office in 2015, it recognised that some changes were needed in the regulation and management of the industry, especially since for years; GGB had a deficit of more than $9B.
"This demanded a comprehensive review of the 35-year old organisation, which upon completion, informed us that the Board has to transition into the role of regulator and diminish its role as a purchaser of gold," Minister Trotman said. Therefore, the Ministry will be meeting with miners, miners associations, and gold dealers shortly to define the way forward.
Minister Trotman emphasised that the Ministry of Natural Resources has fought tirelessly for the continued existence of GGB since the Ministry believes that there is merit in having the organisation function as a regulator to monitor gold dealers. He commended miners for their performance thus far, and noted that the government will continue to explore best practices to enhance the Guyana Gold Board.