As Guyana prepares to manage its oil revenues, one of the major considerations of the upcoming elections should be the leadership of political parties in the race to govern, since this will determine how those revenues are spent.  
That is the view of the Prime Ministerial Candidate of the APNU+AFC coalition, Khemraj Ramjattan.
Speaking at a large rally in the town of Linden last evening,  Mr. Ramjattan said it is the APNU+AFC that has stronger and honest leadership.
Ramjattan said the elections are going to be a competition between leadership of the two major parties and will come down to honesty and competence vs counterfeit.  
"This election is going to be a competition between credible and competent leadership, in the form of David Arthur Granger and as against fake and counterfeit leadership in the form of Irfraud Ali," Ramjattan said, in obvious reference to the PPP's Presidential Candidate Irfaan Ali, who has been accused of fraud. 
Mr. Ramjattan blasted the PPP's Presidential Candidate, telling Lindeners that Irfaan Ali is unfit for leadership and has nothing to offer the people of Guyana. He pointed to the criminal charges that Ali is facing before the Court and the ongoing questions about his academic qualifications.
He said when one compares the work of the current government to the work of the former PPP Civic government, it cannot be denied that the APNU+AFC administration has been pushing development in every reason and for that, citizens should not stop the progress.    
President David Granger in his address urged the people of Linden to continue to support the APNU AFC coalition to ensure the continuing development of the town and the country.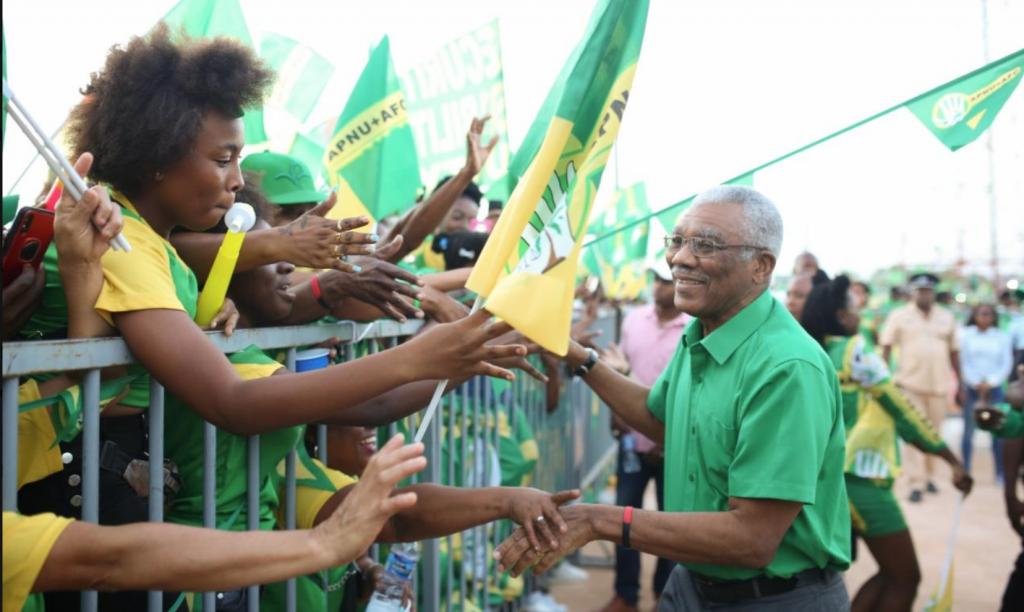 He said Linden, like the rest of Guyana, will benefit from the oil resources and his planned decade of development with major improvements in the educational sector alongside infrastructural development.
The rally in Linden was one of the largest so far since the campaign season got started for the upcoming elections.