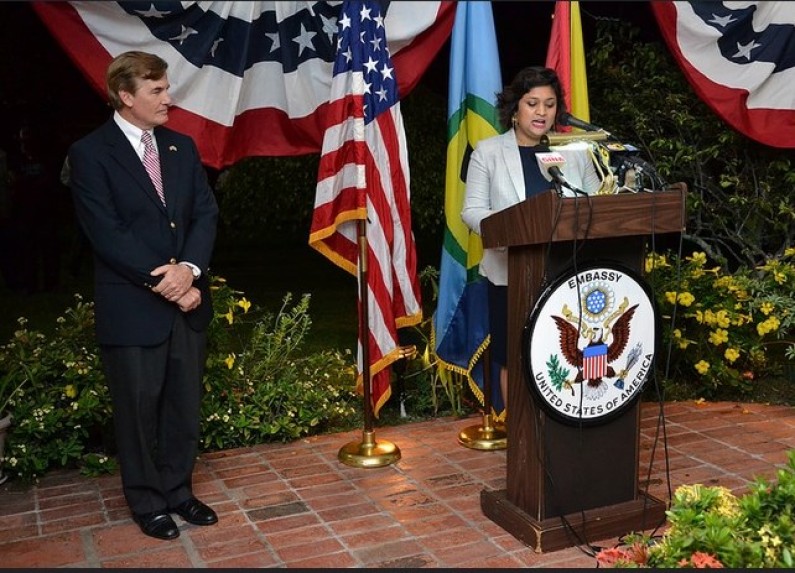 Though he does not believe the blistering verbal assault he received from the Guyana Government through the Acting Foreign Affairs Minister could have any bearing on US/ Guyana relations, Outgoing US Ambassador Brent Hardt was surprised by the Minister's attack on him and believed the attack was a very personal one against him.
Speaking to the media just after the backyard criticism of him and his tenure as the Chief U.S Diplomat, Ambassador Hardt said he has never come under such an attack in his years of diplomatic service on behalf of the United States. He said "we can have a dialogue, we can have a respectful dialogue. I think I have always been respectful and I kept focus on the issues at hand and never went after anybody personally. So that's where I think the debate needs to be".
During her 10 minute prepared speech at the U.S Ambassador's residence to mark the U.S Independence Anniversary, Manickchand lashed out at the U.S Diplomat over his calls for Local Government Elections and his criticism of the President and Government for not calling the elections.
"As one reads the diatribe against our president… at the liberties he has taken with diplomatic conventions, commitment to accuracy and sense of occasion, this situation I report is intolerable, the Ambassador has been associated with a dedicated attack on the president and the government on the holding of local government election", the Minister told the reception to the drowning sound of loud heckling from the over 100 guests of the annual event.
The Ambassador said the U.S Government has raised several issued relating to Local Government Elections publicly and privately with the Government of Guyana. He said he has always been happy to engage on issues, adding that "if its a difference of opinion with anything we put forward, I'm happy to hear that difference of opinion, So let's list the issue on the table and not try to personalise and belittle the issues that are at stake here which are critical constitutional and legislative issues".
Asked whether he felt disrespected by the Minister's remarks about him and her criticism of his tenure, Ambassador Hardt said "it is what it is".