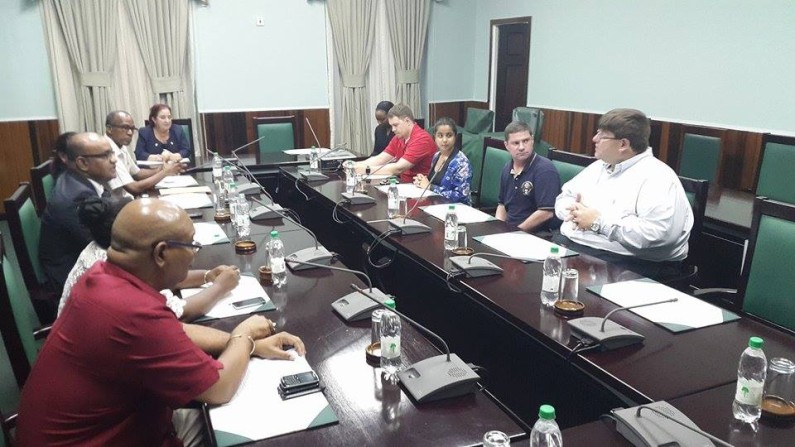 A visiting staff team delegation of the United States Congress is in Guyana and has been meeting with the political leaders.
On Wednesday evening, the visiting delegation along with the Chargé d' Affaires at the US Embassy Bryan Hunt and other embassy officials met with Opposition Leader Bharrat Jagdeo and a PPP parliamentary team.
The meeting took place in one of the committee rooms at the Parliament Buildings.
Just after the meeting, Chargé Hunt explained "the reason for the meeting is fairly simple. We have a Congressional Staff delegation in town and as part of their normal engagement, they want to meet with both the government and opposition side and so the purpose of the meeting with the Leader of the Opposition was really a courtesy call in his role so that they could exchange views on the issues confronting Guyana and the United States and our relationship".
News Source understands that during the meeting, Opposition Leader Bharrat Jagdeo raised several issues about the recent elections and his belief that the elections were rigged.
The United States government has repeatedly declared that the elections were free, fair and credible.
During an interview on the corridor of the parliament building, Mr. Jagdeo said he formally raised his concerns about the elections with the US Congressional staff delegation.
He added that he expressed his disappointment with what he said, were "premature" statements by several diplomatic observer missions declaring the elections "free and fair" even before the official results were announced.
"According to UN protocol you do not say anything until authorities have declared results and I believe that those early statement put a lot of pressure on the machinery itself to ignore the law in relation to recounts and declare the results," Jagdeo said.
He claimed that while a significant number of PPP supporters feel the U.S somehow influenced the outcome of the elections, it is not a view that the PPP shares as a party.
According to Jadgeo, the U.S has indicated a willingness to work in the future with Guyana to strengthen GECOM's capacity along the lines of cleaning up the voters list and help the country to move to electronic voting.
Jagdeo said he also used the opportunity to point out "the early transgressions" of the new government.
He said the opposition PPP is prepared to work on transparency issues with the US government.
The former President said that despite these intentions to build on already good relations, it must be understood that the two sides will not always see "eye to eye".
He added that the PPP never liked and will not tolerate foreign representatives dictating what the country should do.  
"We are smart enough as a people to chart our own course," he said.