US Vice President Kamala Harris raised the issue of inclusive democracy during a telephone meeting with President Irfaan Ali on Wednesday.
In a statement released by the White House, it was noted that during the telephone conversation, Vice President Harris said that she looks forward to continuing her collaboration with President Ali in promoting inclusive democracy, economic development, and security for all Guyanese.
The PPP Civic Government has been accused of undemocratic practices by the Opposition and other groups and has also been accused of not ensuring adequate consultations with stakeholders on major issues.
President Irfaan Ali described the telephone meeting with the US Vice President as frank and open, and one which confronted big issues not only relating to Guyana but the wider Caribbean region.
"It was beneficial both to Guyana and CARICOM, it confronted the big issues, it was very frank and open, very respectful and it outlines and supports the vision that I have been talking about," the President said of the meeting.
The President who has been meeting US government officials and lawmakers over the past four days as part of an official visit to Washington said he believes the meeting has contributed significantly to Guyana/US relations.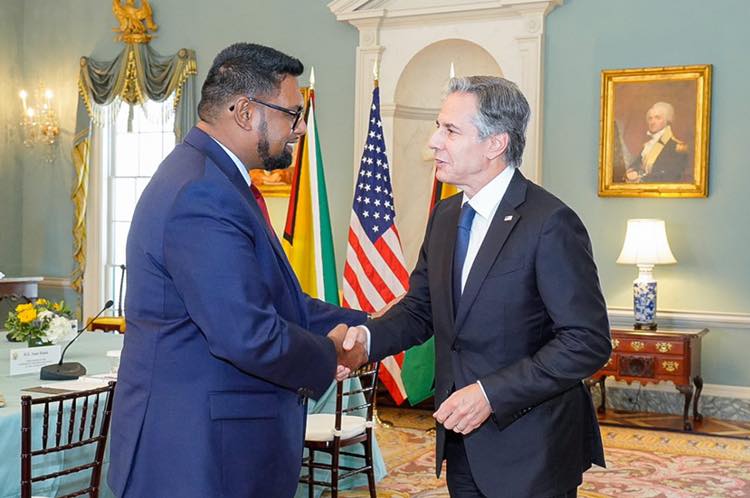 "The first thing that we need to do to advance any relations is to have conversations, to understand each other, to share our perspective on different things—it may be different but unless we share it, we cannot understand the commonalities and understand where each other is coming," the President said.
At the recently concluded Summit of the Americas in Los Angeles, both President Biden and Vice President Harris pledged to strengthen relations with the region and to advance work in the region, in areas where the Caribbean has faced challenges to overcome.