The US Government's Center for Disease Control has flagged Guyana as having a high level of COVID-19, placing the country on its Level 4 ranking and warning US citizens and residents against traveling to Guyana.
Level 4 is the highest level warning on the CDC's warning system for COVID-19.
In its statement, the CDC said traveling to Guyana increases the chances of getting and spreading COVID-19 and its recommendation is that persons do not travel at this time. It said all travel to Guyana should be avoided.
But the CDC is also recommending that if persons must travel to Guyana, they should get tested before their trip.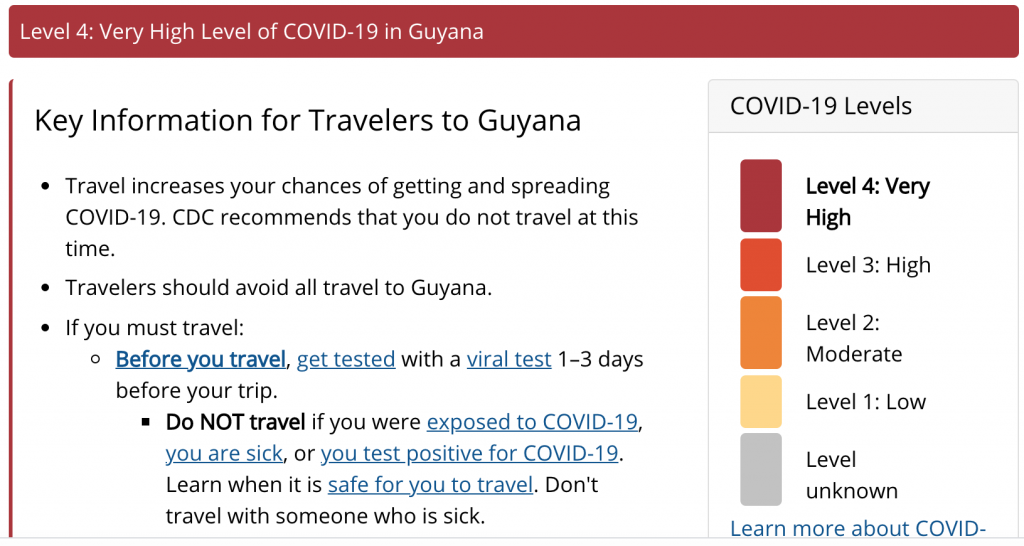 Since Guyana reopened its airports last October and even during repatriation flights before that reopening, all travelers to Guyana have been required to present a negative COVID-19 test before their trip. The regulation remains in place.
The US Government only recently started to require travelers to the US to present a negative COVID-19 test before boarding US-bound flights.
The CDC is also encouraging persons traveling to the US to self-isolate for at least 7 days after their arrival.
Guyana currently has more than 600 active cases of COVID-19 in the country. Since the first case was recorded in March 2020, Guyana has recorded just over 8000 cases with 188 deaths.
The US remains the country that has recorded the most Coronavirus cases and deaths since the pandemic started with over 27 million cases recorded and over 480,000 deaths.