A newly formed 'Used Tyres Association' is heading to Parliament with a petition to seek a reversal of a government decision to restrict the importation of used tyres in Guyana.
Finance Minister Winston Jordan announced the move as a 2016 budget measure in support of government initiatives towards "greening" of the local economy and protection of the environment.
The Minister had said that the ban will be put into the effect as soon as some procedural hurdles are cleared but importers and other local operators have objected to the move.
President of the Association Allan Newark engaged the media on Thursday and said the petition is expected to the presented to the Clerk of the National Assembly as early as next week. Already, the Association has secured in excess of 700 signatures from drivers across sectors. He said the Association is also seeking to engage the Minister on the decision which he believes has the potential to place thousands of persons who currently depend on used tyres for their livelihood on the breadline.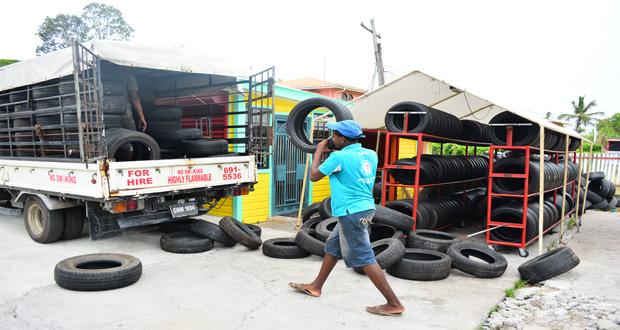 "We would love to consult with the Minister because a lot of poor people depend on this industry." Newark believes that the administration must put in place a standard for the use of used tyres rather than banning its importation.
"They must be set standards in law that will make a tyre legal for use on the roads. This sector employs in excess of 5000 persons and we have families and workers that depend on us," he added. The President said two tyre shredders have already been imported into the country and said the industry was "putting its house in order".
He believes that the blame for the misuse of tyres is sometimes wrongfully placed. "Reckless driving causes accidents, not tyres." Newark said there was no political agenda and said the Association comprised of businessmen men and women who were solely interested in the formulation and implementation of proper standards. (by Kurt Campbell)