Police investigators are now looking for a driver attached to the Guyana Water Incorporated who they believe hit and killed a food vendor on Wednesday night on Mandela Avenue and drove off from the scene.
Forty six-year-old food vendor, Claude McPherson aka Chippy was hit down and dragged for over 400 yards by a speeding SUV on Wednesday night just as he crossed the road from his food stall. The driver of the vehicle never stopped but persons in the area were able to recognize the vehicle's colour and its registration number.
Family members of the dead man said they received information Thursday morning that the vehicle was parked in the compound of GWI. When they hurried  down to the Vlissengen Road compound, they spotted the grey sports utility vehicle with registration number PRR 2923 parked in the compound.
It had damages to its bonnet and its front which appeared consistent with damages that would have been sustained in an accident.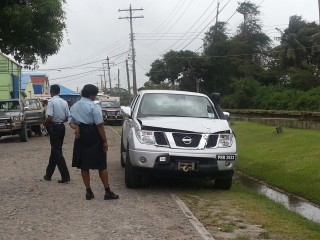 Officials at the GWI seemed shocked by the revelation and said when security questioned the driver about the damages to the vehicle, he told them that he had hit down a horse on the roadway. He reportedly provided very little details about the accident and has not been seen at work since he offered that statement.
GWI Public Relations Officer Timothy Austin told media representatives at the scene that the matter is now in the hands of the police force and the company intends to offer its full cooperation.
Relatives of Claude McPherson who gathered outside the compound said the driver has to be a heartless man.
The dead man's sister said she only returned to Guyana last weekend to organise a family reunion and met with her brother on Monday. She said the next time she saw her brother, was when she was called down to the Georgetown Hospital on Wednesday night just after he was rushed there.
According to relatives, the father of six was the only bread-winner for his family and did not deserve to die the way he did. They said his body was mangled and several of his bones appeared to have been broken. A niece told News Source that she "could not understand how someone could hit down another human being, drive away from the scene then claim he hit down an animal".
The family said they intend to ensure justice  prevails in the matter. The Police investigations continue.