A number of Members of Parliament for the opposition, Peoples Progressive Party joined scores of sugar workers from the Wales Estate outside Parliament Buildings on Thursday as they launched a protest action against government's decision to close the 100-year-old sugar factory.
The sugar workers engaged in a silent protest and held placards that demanded a rethink of the decision.
Making a case for the workers was Plant Foreman at the Wales Estate, Mark Khan.
He explained that the protest is intended to apply pressure on the government to engage them in dialogue.
The government announced the closure on Monday via a press release but the workers have rejected the announcement, saying it was inadequate and consultation was needed.
Mr. Khan said the workers are demanding a meeting with government representatives where their desire for the factory to remain open can be ventilated.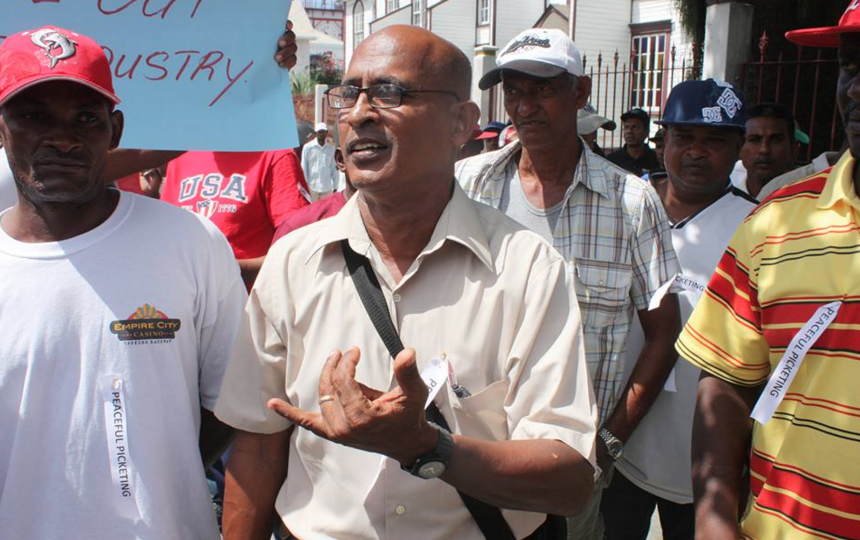 He said the workers also want to hear directly from government on the arrangements for their future employment with the Guyana Sugar Corporation (GuySuCo). The Government has said that when the factory wraps up operations in 2017, the workers will be accommodated at the Uitvlugt estate.
On Wednesday, the government responded to the objections of the PPP and insisted that the decision to close the estate is sound and is in the best interest of Guyana. The Agriculture Ministry said it would cost taxpayers an average of $2 Billion to keep the estate open and operational.
 State Minister Joseph Harmon on Wednesday told reporters that the Wales Estate is an "economic nightmare" and closure is the best option.
Wales estate is projected to make a loss of G$1.6 -$1.9 Billion in 2016. This coupled with the extent of refurbishment needed, rendered the estate prohibitively costly to maintain, according to the government.
The government indicated no intention to reverse its decision on the Wales Estate. (Kurt Campbell)