President David Granger today said he is not aware of any promises that he made to Indigenous Guyanese and have broken since coming to office in in 2015.
The President's comments came minutes after outgoing Chairman of the National Toshaos Council, Joel Fredericks raised concerns about fading promises for the Indigenous Peoples of Guyana made by the Government.
The Head of State failed to address concerns overs his promises to the Amerindian peoples in his scripted address at the National Toshaos Council Conference but later said he is unaware that he has broken any promises when approached for a comment after the official opening ceremony.
"I don't know any promise was broken. They asked for plot lot of land and I went there and turned the sod myself… I haven't broken any promises," he said.
The President's comments were very brief as he hurriedly left the Arthur Chung Conference Center where the three-day engagement between government officials and Toshaos are taking place.
Fredericks had said among the promises that the government is still to deliver on, include establishing a Land Commission, respecting Amerindian land rights to land, revising the Amerindian Act and constitutional reform.
The President in his address urged Amerindian leaders to ensure that they develop their Village Improvement Plans which will serve as the blueprint for the delivery of government services to indigenous communities.
"The National Toshaos Council has certain responsibilities and the government's job is to help them fulfill those responsibilities… I'm not blaming any body, I'm not blaming a soul", he said.
He also urged the NTC to do what it has to do to ensure that there is progress in indigenous communities.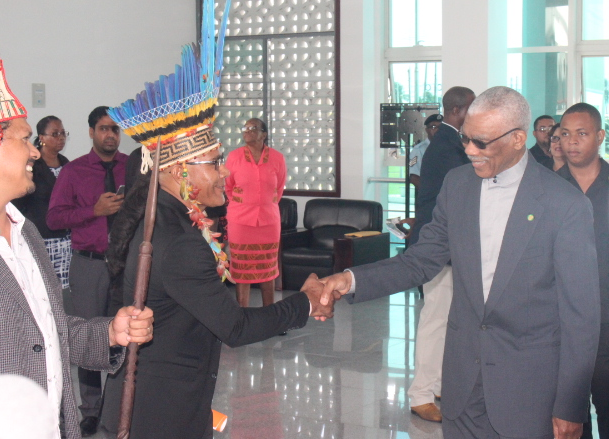 "The NTC can help to improve life in many of these villages… the NTC has work to do."
Also coming to the President's defense over the concerns raised was Prime Minister Moses Nagamootoo.
The PM said he too was not aware of any broken promises but instead said many of the issues raised remain a work in progress.
But it was Indigenous People's Affairs Minister Sydney Allicock who delivered one of the most direct and scatching responses to the concerns raised.
He told the Amerindian Leaders that while they have a voice, they must learn how to use it, lest it works against them.
"We have no time to waste with pettiness, we are bigger than that."
He said the government will not condone any arbitrary decisions taken by the NTC even as a new Councilors prepare to take office.
"Just as you demand consultation from government, so too must demands be made of your elected leaders."
Allicock said it is not true that government has no interest in addressing land issues but said the challenges faced must be taken into consideration.
He called on Amerindian leaders to ensure that their actions in governance are democratic, transparent and above board.