A woman was killed and at least three other persons were badly injured when masked gunmen opened fire on a hang out bar in Kitty early on Sunday morning.
The dead woman has been identified as 33-year-old Shelliza Basir-Lall aka Shelly Lall of Charity, Essequibo.  Reports indicate that her husband, Raymond Lall is one of the seriously injured persons. The husband is identified as a well-known Essequibo businessman.
All of the injured persons were rushed to a private city hospital.
Several late night party goers were forced to run for cover when the gunmen opened fire on the Mambo Bar in Barr Street Kitty early on Sunday morning in what appeared as a drive by shooting.
A resident in the area said he heard loud gunfire and when he looked outside, he saw several persons running all over the road. He said when he ventured out just after the gunfire ended and walked across to the bar, he saw five persons including the woman sprawled on the floor of the bar with gunshot wounds.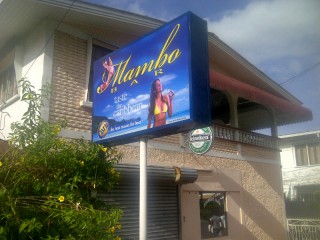 He said the woman appeared to have died on the spot. The police were summoned and the injured were taken to a hospital. The man described a chaotic scene outside the bar after the shooting with persons "scampering in all directions".
According to reports, a car was seen approaching the business place and moments later, heavy gunfire was heard coming from the direction of the vehicle.
It is unclear who may have been the intended target, but investigators believe it may have been a "paid execution".
Friends of the dead woman were shocked over her death and said she was seen earlier in the evening at other parties "having a good time".
It is believed that the woman, her husband and some of their friends may have stopped at the Kitty bar for a late night hang when the drive by shooting took place.
Police investigators are stumped over the latest shooting incident. A probe is underway.