Overseas based Guyanese 39-year-old Osan Dillion-Jordon was  killed on Friday morning in a two vehicular smash up at  Liliendaal, along the railway embankment on the East Coast of Demerara.
The woman returned to Guyana a week ago for her Christmas vacation and to celebrate her 40th Birthday. She died less than an hour after she turned thirty nine years old. The accident took place just after midnight.
Five other persons were injured in the smash up and are hospitalized.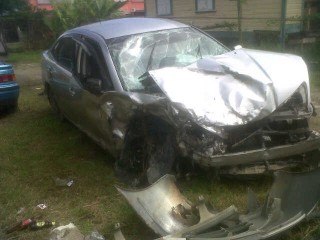 According to reports, the two cars which were travelling along the embankment in the opposite direction slammed directly into each other as one of the drivers reportedly lost control of his car.
One of the cars PNN 4182 ended up in a nearby trench while the other one was left in the middle of the roadway.
There are reports that the woman was semi conscious when she was pulled out of the wreckage but she died while undergoing treatment at a city hospital. Police investigators have launched a full probe into the incident.
She has left to mourn her husband and a young daughter.
12/20/2013