President David Granger believes that Desmond Trotman of the Working People's Alliance is fit and proper for his new role as a Commissioner of the Guyana Elections Commission.
Mr. Trotman, who is a former Member of Parliament, took the oath of office this afternoon at State House.  The President explained that he consulted with the parties of the coalition government for nominees following the passing of Commissioner Sandra Jones.
He said based on the names put forward, in his own deliberate judgement, he picked Trotman for the job after he was put forward by the WPA. The Alliance For Change submitted the Manager for the Synthetic Track and former Member of Parliament, Trevor Williams, while the People's National Congress and the other coalition partners submitted the name of Attorney, Kesaundra Alves.
Questioned about why he favoured Trotman over the other nominees put forward by the coalition partners, President Granger said "you can't fake experience".
"My judgement prevails and I am empowered under the Constitution to exercise my judgement in this matter. I believe that when all of the nominees were looked at, Mr. Trotman is the fittest person", he said.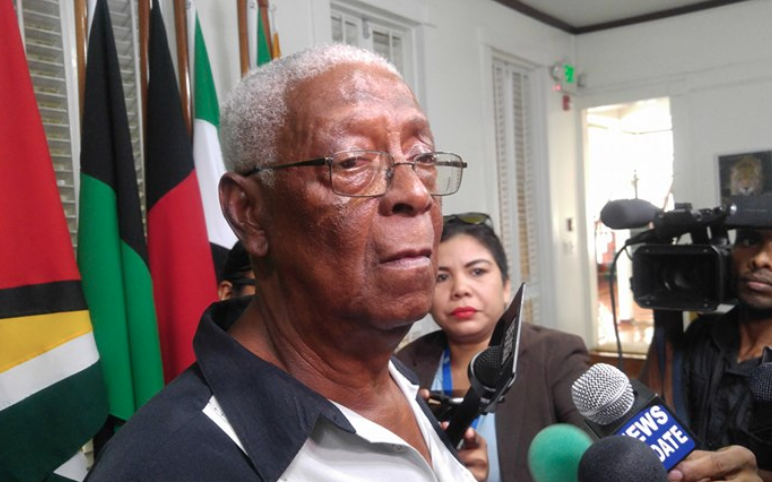 Leader of the Alliance For Change, Raphael Trotman told reporters this morning that his party is a bit disappointed by the President's choice.
The AFC was hoping that its nominee would have been the final choice of the President. News Source understands the President wanted nominees with vast political knowledge and experience.
In light of the AFC's disappointment, President Granger reminded that the coalition is made up of six parties and every one of the parties was asked to make a nomination for the post.
The Guyana Elections Commission has six Commissioners. The Constitution allows for the President to pick three of the nominees based on his own personal judgement, while the other three would be picked based on the advice of the opposition.
The new Commissioner said he is ready to serve the Elections Commission. He said he is more than thirty years of experience in electoral matters cannot be brushed aside and as he takes up the seat on the Elections Commission, he will be there on behalf of all the people of Guyana.
The Elections Commission will be having its first meeting under new Chairman, Justice James Patterson, this afternoon.