Guyana's First Executive President, Linden Forbes Sampson Burnham, was remembered today as a nationalist and someone who pushed for national development all across Guyana.
Today marked the 34th death anniversary of the Guyanese President. A wreath-laying ceremony took place in the Botanical Gardens this morning at his burial site.
In brief remarks, President David Granger remembered the efforts made by the late President to ensure every Guyanese got the shot of a higher level of education.
According to President Granger, "Forbes Burnham gave effect to free public education by expanding opportunities for all. He entrenched free education as an entitlement in Constitution of the Cooperative Republic of Guyana which still mandates [at Article 27] that: "Every citizen has the right to free education from nursery to university…"
President Granger said former President Burnham aspired to establish an educational system in which rural and hinterland schools would be as efficient as those on the coastland and he also believed that, if the nation was to improve its citizens' quality of life, it had to provide them with a high quality of education.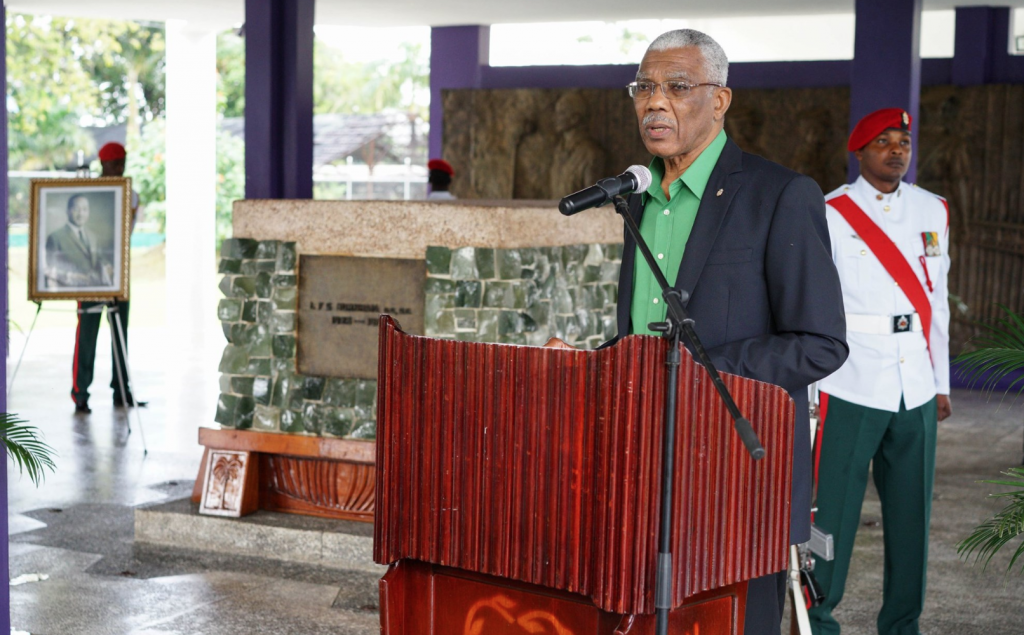 "Forbes Burnham's first decade in office – 1964-74 – was one of tremendous transformation of the public education system, making it more resilient and relevant to the national situation at the time and to our people's aspirations for the future. He reinforced the bases of universal primary and secondary education and moved tertiary education from being the privilege of an élite few to an entitlement for everyone".
President Forbes Burnham died while undergoing surgery back in 1985. He became executive President in 1980 and previously served as Prime Minister. He was one of the founding fathers of the political movement in Guyana.