More than 200 jobs will be created for persons living along the Essequibo Coast in the near future with the establishment of the Institute of Applied Science and Technology's (IAST) $100M rice cereal factory. The rice cereal is branded 'Morning Glory'.
 President Donald Ramotar has lauded the initiative and noted that this is a step in the right direction to add value to rice and rice products.
"We are meeting today at a very happy and important occasion to launch the construction of a factory to produce in the first instance rice cereal, and the first step to add value to our product".
Citing how important this initiative is for Guyana as a whole, President Ramotar pointed to the fact that Guyana being a rice producing country is fundamentally a price taker.
This is in spite of the fact that local rice production has grown tremendously over the years from 90,000 to more than 600,000 tons today.
This figure, the President said, makes Guyana very big in its own context, but when compared to the world market, Guyana is just a small player.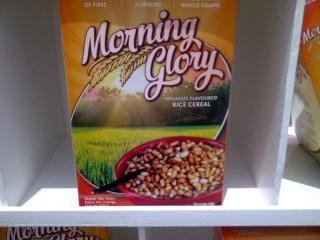 "We therefore are price takers, we do not determine prices, we do not determine world prices, we take the price that the world has and that is why in order to ensure that we insulate ourselves from the external shocks that come about when prices internally fall, it is important for us to add value to the products."
 He said, "This is one of the areas in which we can add value to our product and because this will be produced not from high quality rice, but this can be produced from the broken (rice) and still fetches a good price on the local and international market."
Being optimistic about this project, President Ramotar said more business minds from the private sector should follow suit.
"…And I hope it will serve as an example for the private sector to invest in other areas… (I) hope it will have a demonstration effect."
Meanwhile Commerce Minister, Irfaan Ali also hailed the project a success even in the face of criticisms by the opposition who said it was merely a dream. Ali said this sod turning clearly indicates that it is a dream that has come to pass, and even great world leaders had dreams which also materalised.
This facility will have the initial capacity to process 2,000 tons of rice per year however; it is also being built in such a way that if the market that is being targeted grows it can easily be expanded.
Upon completion the factory will employ some 105 persons who will work one shift and over a period of time a three- shift system will be introduced, thereby paving the way for more than 200 persons to be employed.
Within another four weeks, training of persons eligible to work in the factory will begin after which they will be presented with a food handler's certificate so by the time the factory is completed there will be a trained and equipped work force to take up.  (GINA)
Filed: 24th March, 2015