A number of Guyanese Customs and other Border Control Officers are currently undergoing a three day capacity building programme that is expected to better enable them to not only protect Guyana's natural resources but also equip them to combat international environment crime.
The Caribbean Community (CARICOM) has partnered with the Guyana Revenue Authority (GRA) to train its management and supervisory staff with an aim to raise awareness about international agreements to control the trade in environmentally sensitive commodities.
The three day workshop opened on Tuesday at the GRA main office on Camp Street in Georgetown with commendations flowing from CARICOM, recognising Guyana as one of the few countries in the region that has ratified all its multilateral environmental agreements (MEAs) to be addressed at the workshop.
The workshop is being delivered as part of a wider project for capacity building related to MEAs in Africa, Caribbean and Pacific countries and is funded by the European Union and coordinated globally by the United Nations Environment Program (UNEP).
"Indeed Guyana has set an example for the Region by being the only CARICOM country so far to ratify two relatively new environmental agreements… Guyana is leading the field, demonstrating a strong recognition for the importance of MEAs," said CARICOM representative Ms. Safiya Ali.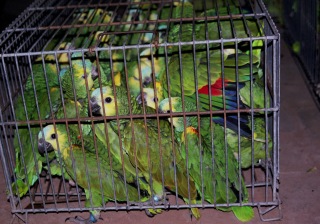 She said while international environment crime is no longer an emerging issue, nor is it a minor enterprise, the illegal trafficking of wildlife is worth millions of dollars.
"Illegal trade in environmentally sensitive goods such as wildlife and hazardous chemicals often involves organised criminal networks operating across borders," Ali added as she expressed her confidence that the workshop will give participants the understanding, information and guidance necessary to effectively play their important part in combating violations of national and international environment laws.
Meanwhile, EPA Compliance and Enforcement Director Kemraj Parsram welcomed the initiative and advocated for it to be trickled down to the low level of staff and be taught during the core stages of training to new Officers.
He recognised too that most environmental problems that occur in the world today are trans-boundary and have a global impact and can only be addressed through the kind of international co-operation and shared responsibility made possible through the MEAs.
He said monitoring and detection, followed by subsequent seizure of illegal shipments by customs agencies was very important along with the prosecution of criminals and appropriate sentencing by the judiciary.
Filed: 24th March, 2015