The Guyana Police Force announced this afternoon that members of the Joint Services have been dispatched to the East Coast Demerara corridor to monitor the roadway and mitigate any acts of crime.
The move amidst the protests by villagers over the Police shooting death of Quindon Bacchus and reports of robberies and looting at the Mon Repos market during the protest.
The Police said it has received the reports of the robberies and looting and will be investigating the incidents.
At the Mon Repos Market, the stands for roadside vendors were set alight, forcing many of them to run for safety. They later complained that their grocery items were stolen and their stalls completed destroyed.
One woman said more than $1 million in groceries were stolen from her stall before it was set on fire.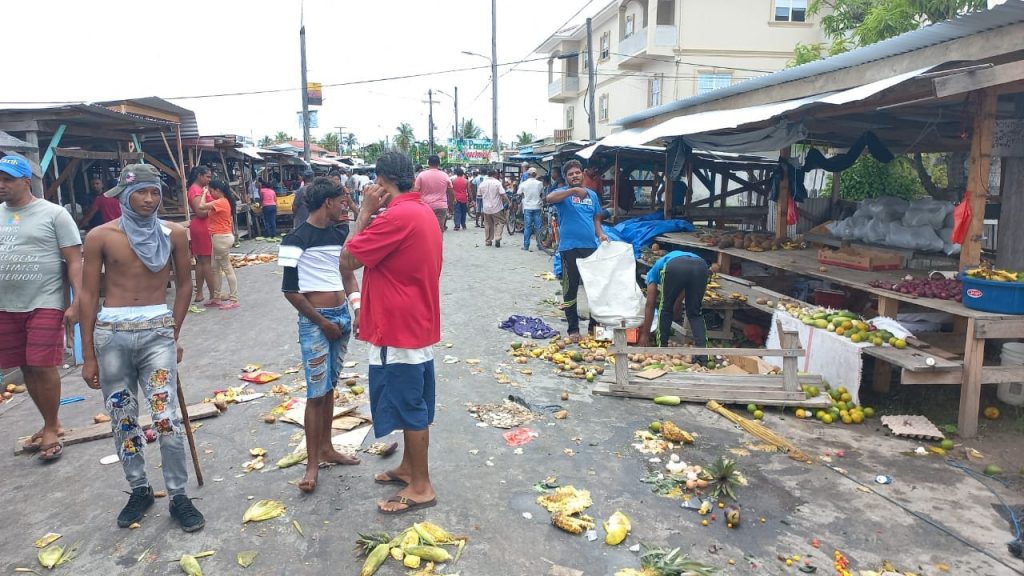 A mini-bus that was used by another vendor to transact her business was also set on fire and items stolen.
"Everything they loot and gone, all the groceries I was selling gone, everything everything", the woman recounted as she fought back tears.
Most of the protesters dispersed at the marketplace, with many of them spotted on their bicycles with groceries and other items.
After the protesters left, many of the Mon Repos stall holders and residents came out onto the roadway as the Joint Services moved into the community to maintain order.
Home Affairs Minister Robeson Benn was rebuked by the Mon Repos residents as he asked them to get off of the road.
"No we not going anywhere, me money does pay you", one man shouted at the Minister.
President Irfaan Ali in a statement also condemned the damage to property and theft that took place at the Mon Repos market.
"The Government has already made it clear it supports the ongoing independent investigation to bring justice to Mr. Quindon Bacchus. Similarly, we are supporting all actions that are necessary to ensure justice for all those who lost property, were beaten, robbed, or were affected by the lawlessness that took place", he said.
The family of the youth who was shot dead by the Police has since condemned the actions of those persons who used the protest to rob others and loot their stalls.
The family said their protests are peaceful and have only been peaceful as they continue their calls for justice.