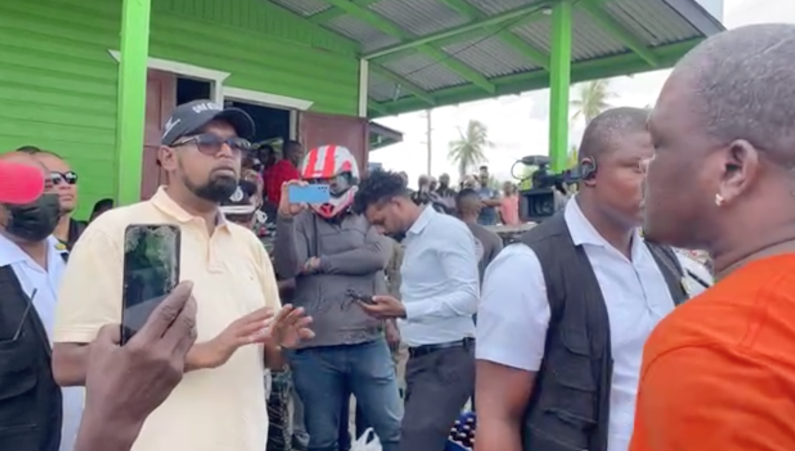 After meeting with angry vendors in Mon Repos who had their stalls looted and burnt during this morning's protest along the East Coast, President Irfaan Ali moved to the community of Buxton as he tried to quell the protests taking place several villages away at Golden Grove.
While in Buxton, the President declared that he also wants justice for Quindon Bacchus and also wants justice for the vendors whose stalls were looted by some persons during this morning's protest.
"I want justice for your family too, but justice for your family cannot mean injustice for other people", the President said while talking to a cousin of Quindon Bacchus who was shot dead by the police three weeks ago.
The dead man's relative told the President that he should have responded earlier to the cries of the citizens for justice in the case.
"Now is when I seeing you up the East Coast. The day when they start the protest, the next day is when you see one-one bigger heads coming up to talk to my family and that is bad, because if we didn't doing a protest, we would not be seeing anybody", the man told the President before walking away.
President Ali repeated that citizens should allow the Police Complaints Authority to do its work. He said it is an independent body and he has been given the assurance that the investigation should be completed by next Monday.
Family members of the dead youth have condemned those persons who used the protest to loot stalls and take part in other criminal acts. President Ali has since indicated that the vendors will be compensated for their losses.