At least 15 persons were rushed to the Skeldon Hospital on Wednesday morning following a 4 vehicle smash up on the Corentyne Coast.
According to reports from Corentyne, a the driver of a black Toyota Raum was overtaking a mini bus at a fast rate forcing the driver of the mini bus to pull his vehicle to the side.
The driver of the bus reportedly lost control and slammed into the black Toyota Raum and two other cars. From all appearances, the drivers of the Raum and the mini bus were both speeding and were unable to control their vehicles.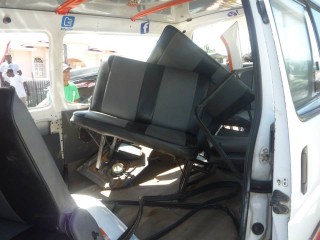 Persons in the area rushed to the scene and pulled a number of injured persons from the mini bus and the other vehicles. All of the injured persons were rushed to the Skeldon Hospital.
Hospital sources told News Source that from initial observations, none of the injuries appear life threatening. A number of doctors and nurses were tending to the injured.
The Guyana Police Force's Traffic Department recently launched a campaign to attack the wave of traffic lawlessness on the country's roadways.  That campaign is expected to see more traffic policemen being sent out to areas where speeding appears to be a problem.
.