Several persons including children were rushed to the hospital yesterday afternoon following a smash up between a car and a mini-bus on the Linden Soesdyke highway in the Kuru Kururu area.
The two vehicles were traveling in the opposite direction on the highway when the driver of the car, PMM 548 swerved into the path of the route 42 mini-bus and the two slammed head on into each other.
The entire left side of the mini-bus was ripped apart as it toppled several times.
The car's front was also ripped apart as it toppled several times too.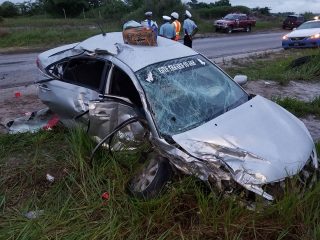 Concerned passers-by rushed the injured to the Diamond Hospital where some were initially treated before being sent to the Georgetown Hospital.
Police are expected to question the female driver of the car as they prepare possible charges.
An investigation is underway.