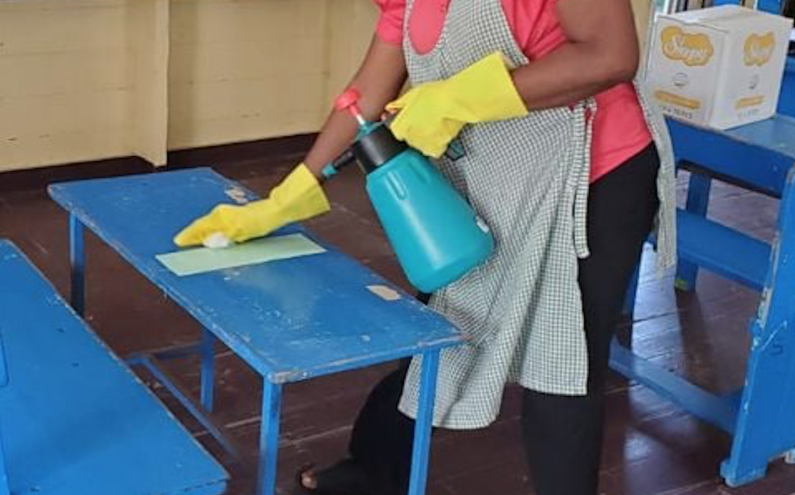 In the past week and a half since schools were reopened, 17 schools have since been forced to close their doors to face-to-face learning because of positive COVID-19 cases.
The Education Ministry has faced criticism for its rush to reopen schools for face-to-face learning as the country experiences a spike in new COVID-19 cases with the past two weeks seeing 3000 new cases being confirmed across the country.
Still, the Minister of Education is standing by the decision to reopen schools for in-person learning with strict protocols in place.
"We have not been sitting on our hands. In these last two weeks, we reopened schools last week and unfortunately, we have had to close at least 17 schools in one week.  Once the schools are closed, they are engaged in accordance with what the Ministry of Health wants. So, not every school is closed completely. If a Head Teacher did not come into contact with anyone and she is positive, then there is no need to close the school except for the purposes of sanitization. Once that is done the school could be reopened. Once the headteacher was in touch with other teachers then they all have to quarantine. So, it's different circumstances for each school."
The Education Minister said it is disappointing that the children could suffer from more learning loss but it is a problem that is not limited to Guyana.
"Every country in this world which has found a solution to get their children back into the classroom has had to deal with very similar issues." Minister Manickchand said.
The Education Ministry's vaccination policy only allows vaccinated teachers and unvaccinated teachers with a recent negative COVID-19 test result into the school compound.
Several nursery and primary schools were reopened last week on a rotation system for face-to-face learning. 
The secondary schools are still to begin in-person learning as students in that age category are being vaccinated.