Police investigators probing the attack on a police patrol which left a police corporal dead and two of his colleagues injured, believe a high powered AK-47 assault rifle was used in the attack.
Early Sunday morning, Crime Scene Investigators from the Police Force's Criminal Investigations Department were still carrying out checks on the bullet riddled police vehicle that came under attack on Sunday evening. The Toyota 4×4 pick up bore over 10 gunshot marks.
A Senior Police official on Sunday morning said "based on preliminary checks, it is almost certain that an AK-47 was used, but we are still looking at everything, but an AK  was used". Investigators believe a smaller gun was also used in the attack.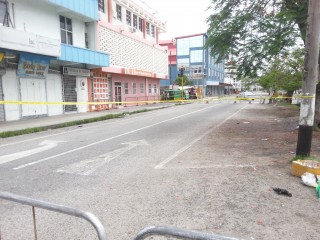 The section of Avenue of the Republic in Georgetown where the incident took place remained closed and cordoned off on Sunday morning. Police patrols could be seen slowly driving by the area, while it was business as usual at the nearby mini bus and taxi park.
25-year-old Police Corporal Romain Cleto was shot dead early Saturday evening as he approached a heavily tinted vehicle that his unit had pulled over because of an obscure license plate.
Assistant Police Commissioner, George Vyphuis has vowed that the police force will hunt down the persons responsible for the act. He told reporters that as the policeman approached the vehicle, the men inside opened heavy gunfire and the officer fell to the ground. The other two officers who were a part of the unit were injured. Their injuries are not life threatening.
The two tried to return gunfire but the armed men in the motor car sped away from the scene as persons nearby the busy car park dashed for cover. A vehicle which was in front of the car that was stopped by the police was also hit by bullets. No one was injured from that car.
The young officer received gunshot wounds to the neck and upper body and was pronounced dead at the Georgetown Hospital. Some of his colleagues wept openly as they received confirmation of his death. He was described as an "easy-going and cool" young man who was the father of a young child.
Investigators are expected to seek out more information from the two injured policemen. Information about the vehicle that was pulled over by the police is very sketchy.
A number of surveillance cameras are located on businesses in the area and the police force is expected to get the owners of those businesses to assist with the probe by providing information about what the cameras may have captured.