Declaring that the 64-year-old People's National Congress is set to witness serious transition of new leaders after Saturday's congress, the man who is tasked with overseeing the proceedings as Congress Chief Elections Officer, Vincent Alexander, has pressed the green light for congress this Saturday.
Flanked by the three candidates for party leader, Joseph Harmon, Aubrey Norton, and Dr. Richard Van West-Charles, Mr. Alexander said the elections machinery has been established for Saturday and is ready to go.
"I am therefore here today in the company of the aspirant leaders to report that the stage has been set for congress and most importantly the election. The voter's list has been prepared after much scrutiny by the stakeholders and the elections machinery has been established, oiled, and activated," Mr. Alexander said during the press conference.
The congress which was scheduled for last Saturday was pushed back by a week over logistical and other matters that needed to be addressed.
The Congress Chief Election Officer said all of those issues have been ironed out.
There are a total of 100 candidates vying for various positions in the party ranging from Leader, Chairperson, Vice-Chairperson, and Treasurer to Central Executive Members.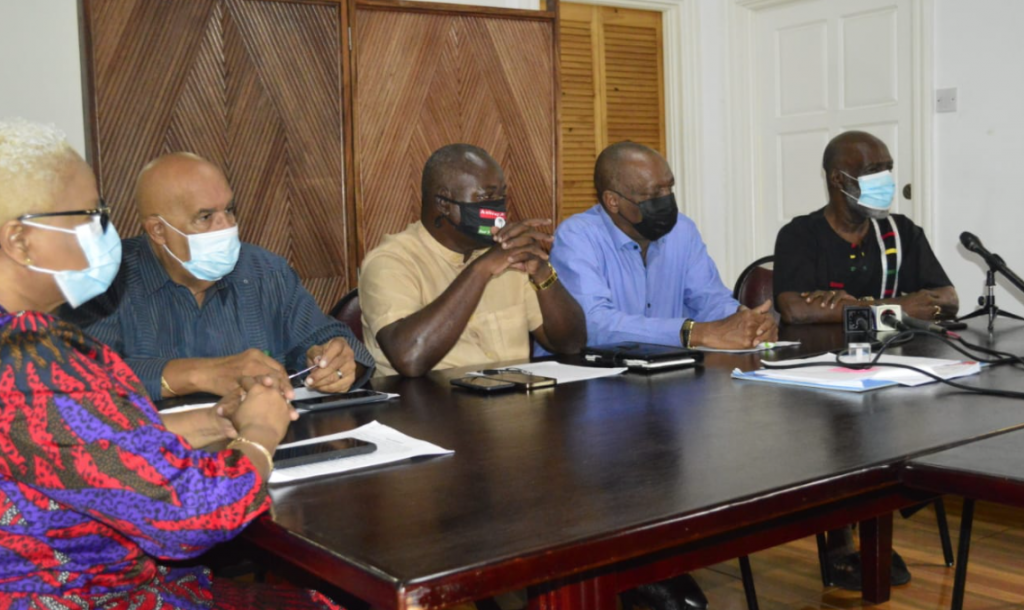 The party is heading into its congress and elections without the presence of the incumbent leader, David Granger, who left the country earlier this week for follow-up medical attention in Cuba. Mr. Granger was diagnosed with cancer in 2018.
On Saturday, the PNC Congress will see 3000 delegates representing the party's membership from across the country casting votes on behalf of those members.
"The decisive voting population consists of 3000 delegates, ready to exercise their franchise from 11 am-7 pm Eastern time on December 18. The expectation is that the results will be ready before praise and worship on Sunday, December 19th," Alexander promised.
The congress will be held in two parts, the business session which starts from 9:00 am on Saturday and then the elections.
Mr. Alexander assured that the process will be transparent. He said the candidates and their teams will be kept abreast throughout the day as votes are being cast at the various party congress houses across the country.
The three candidates seeking the party leader position said they believe the congress will send a clear message for the reuniting of the party and its return to its support base.
The incumbent Chairperson for the party, Volda Lawrence who is performing the functions of party leader, is expected to address the opening of the congress while General Secretary Amna Ally will deliver her report.
It is the first Congress being hosted by the PNC since it was booted from Government as part of the APNU+AFC coalition.