For years the Alphonso family of Pomeroon has been been associated with manufacturing oil and oil products and mining. Now the family is branching out into the food, beverage and entertainment industries.
On Friday, the Pomeroon Food and Beverage Company which is owned and operated by the Alphonso group will open the doors to the newest fast food restaurants in Guyana.
Dixie Lee Chicken and Seafood, Papa Pete's Pizzeria and Miami Subs and Grill are now under the one roof at the company's fast food and entertainment complex located at the corner of Lamaha Avenue and Albert Street in Georgetown.
Chief Executive Officer of the company Andron Alphonso explained that the Lamaha Avenue complex will also be home to a new high definition influenced sports bar, a night club and a sky lounge. Those facilities will open at the end of November.
He said the total investment in the project stands at over US$3 Million and will create jobs for over 100 persons initially. Mr. Alphonso said his company has confidence in the local economy and will continue to make investments.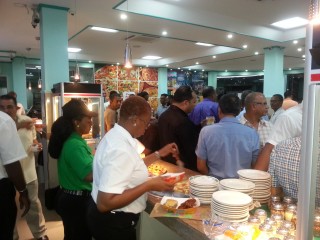 He said there is special focus on customer service that will keep them heading back to the business place.  "I am pretty sure our food is top-notch but we are also paying special interest to our service", Alphonso said.
The President and Chief Executive Officer of Dixie Chicken who is in Guyana for the launching said his company is happy ti partner with the Alphonso group. He said Guyana is the first Caribbean country to welcome the Dixie Lee Franchise and already his company is looking at opening franchises across the Caribbean region.
Tourism Minister Irfaan Ali welcomed the new investment saying that it will add to the country's tourism product. He encouraged other local businessmen to become involved in reinvesting in Guyana.
Minister Ali said the Alphonso Group should be supported because they have shown the importance of reinvesting in Guyana and supporting Guyanese. According to Ali, the government will continue to lend support to investors in its many efforts to expand the tourism product.
The Company has already indicated that it has several other investment initiatives in the pipeline.