Guyana is ready and ripe for investment and the Government will welcome investors. That assurance came from Finance Minister, Winston Jordan, as he spoke at the launching of the Burger King franchise in Guyana last evening.
The investment has been undertaken by the Corum group, which also has the franchise for Pizza Hut and owns the Gravity Lounge.
Mr. Jordan told those gathered that his government has opened the doors to investment and will not block out any investors. He said the business climate has been changing to accommodate more investment and to get the business community to play a bigger role in Guyana's development.
"Your Government, in which you entrusted to run the affairs of our great nation, since May 2015, has been reshaping the business environment to make it conducive for the private sector to increase its contribution to the growth and development of the country. We have banished the old disposition, where friends and relatives of the previous administration benefitted enormously from a variety of concessions, fire-sales and peppercorn values of the nation's assets", Jordan assured.
He pointed to recent reports that a Caribbean manufacturer decided to take his company to Trinidad instead of Guyana because under the previous government he was never given the green light.
"We note, with disbelief and distress, the loss of a US$5 million investment to Trinidad and Tobago, by a world-renown Guyanese businessman, whose only crime appeared to have been being the cousin of now Hon. Minister of Public Security, Khemraj Ramjattan."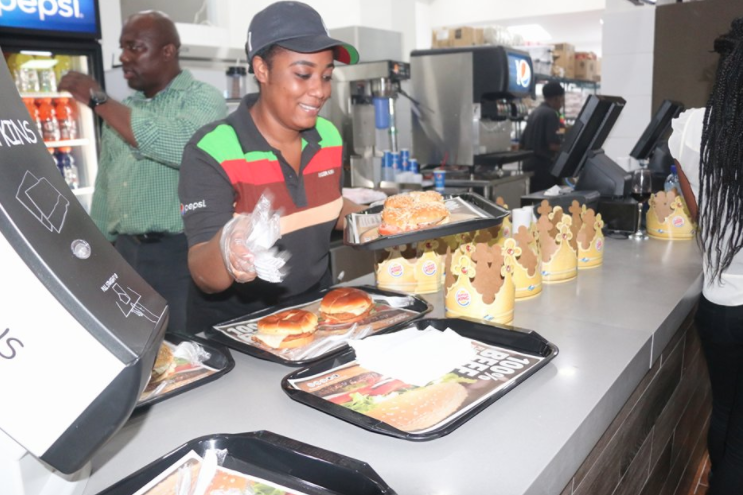 He said such a situation must never be allowed to happen again,pointing out that "all investors, whether foreign or local, must be treated equally and with respect. They must feel wanted, not because of their friendship with this or that Minister or other high-ranking official, but because of their worth, the risk they intend to take, and the addition to the wealth of the nation."
The Deputy Ambassador at the US Embassy, Terry Gonsalves, also welcomed the entry into the Guyana market by the American fast food chain. He said the US embassy will continue to push for mutually beneficial business relationships.
Managing Director of the Corum Group, Clairmont Cummings, offered the commitment of his company to continue doing business in Guyana.
He revealed that the Burger King franchise will create more than 300 direct jobs in the coming 18 months. Over 100 persons have already been hired for the first two branches.
The new fast food chain will open its doors officially to the public on Wednesday morning at the Regent and Camp streets location. The second location at the Giftland Mall is set to open before the end of the year.