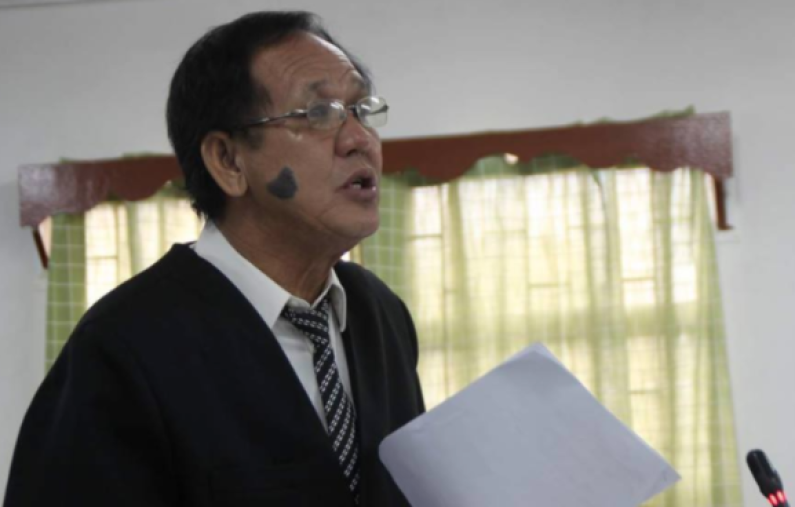 -by Kurt Campbell-
A malicious motive is believed to be the reason behind the supposedly false allegations made by Andriff Gillard, in which he claimed that he was offered millions by businessman, Nizam Khan to assassinate President David Granger.
This is according to former Chief Justice, Senior Counsel Ian Chang as he submitted his closing arguments on Friday at the Paul Slowe Commission of Inquiry.
Chang represented the interests of the Guyana Police Force in the face of claims that the investigation was poorly conducted through the interference of senior ranks of the Force.
Chang arguments that Gillard's allegation was nothing but "false statements" against Nizam Khan which was born out of malice.
"It was the kind of allegation that was easy to make and hard to dispute but the evidence was inherently unreliable and incredible," he said.
Senior Counsel Chang kicked off his arguments with a question that he later sought to provide various answers for.  "Why would Nizam Khan offer a barber and taxi driver $7 million to assassinate a President?"
The former Chief Justice said there is no evidence to suggest that Gillard was a person with the capabilities to carry out such an act.
"He was not a hitman, we have no evidence of such, the evidence pointed overwhelmingly to a fabricated and concocted story."
Chang said there was simply no material evidence to support Gillard's story and reminded the Commission that while giving evidence he claimed that he was a good planner.
Pointing to what he said were weaknesses in Gillard's statement, the Senior Counsel pointed out that notwithstanding the fact that the offer was allegedly made in June 2015, Gillard never reported it to the police until 21 months later.
During this period, Gillard claimed that he was personally assaulted by Khan and believed that he was behind several misgivings that he faced, including his removal from a building he occupied.
"It is clear Gillard was hurt and offended because he believes Nizam Khan was behind his removal from the building he occupied […] and remember he told us he was assaulted by Nizam Khan […] two witnesses with no association to each other also told this Commission that Gillard felt Nizam Khan was F***ing his wife."
Chang said the police must be commended for taking urgent action in arresting Khan but argued that arrest and the granting of station bail are two separate issues.
"If refusal to grant bail was solely decided on the seriousness of allegation then persons can be easily held by such allegations made by malicious persons, as occurred in this case […] the granting of bail was in order and cannot be seen as unreasonable or improper."
Chang also touched on Gillard decision to give an exclusive interview to TV Journalist Travis Chase. He argued that Gillard knew he could abuse Chase's vulnerability because of his position and his own bruises with the police.
He said, "Chase was played like a fiddle. Gillard had picked the perfect man and Chase was attempting to embellish Gillard's false story."
Chang asked the Commission not to allow itself to fall victim to "this storm in a teacup" created by Andriff Gillard and aided and abetted by Travis Chase.
He supported previous views expressed that the matter was not treasonous and also pointed out that Gillard twice took Oath using the Bible instead of the Quran.
Gillard said he was a converted Muslim leading Chang to raise questions over his move to take an Oath on a book that was not binding on his conscience.
"His falsity has no bounds," Chang said as he concluded his arguments while calling for the Police Force to be complimented for its work in uncovering Gillard's lies instead of being accused of a cover-up.
Chang's views were entirely endorsed by Attorney Glen Hanoman who is specifically representing Police Commissioner, Seelall Persaud.
"I want to endorse all the views exposed by my learned senior," Hanoman said as he followed Chang in making his closing arguments.
He said there is still no evidence that investigation was less than diligent or that there were systematic failures within the Guyana Police Force.
He said the Commission mandate seemed to have been based on a false premise, specifically when it was asked to review all actions taken by the Guyana Police Force and examine whether there was evidence failure, neglect or omission to thoroughly or properly investigate the intention or plan to assassinate the President and determine whether such failure or omission was intentional.
Hanoman said this false premise may have resulted from false reports by Assistant Commissioner David Ramnarine during his briefs to the political directorate.
He said claims that Persaud instructed the release, on bail, of Khan is a red herring and has no bearing on how the investigation was conducted.
The Commission of Inquiry was conducted by retired Assistant Police Commissioner, Paul Slowe.  During the hearings, Mr. Slowe, who is well known for his directness, questioned various police ranks repeatedly on the probe into the allegations and whether proper steps were taken as part of the probe.
He is expected to complete a final report and hand it over to the government in the coming weeks.