The Ministry of Tourism continues to pull in more sponsors as it gets ready to roll out the Jubilee Festival from May 19-22 as part of Guyana's Independence celebrations.
Today, Banks DIH Limited, Digicel Guyana and the Singer Department Store became the latest corporate sponsors of the event.
According to the Ministry, the donations will help to off-set expenses for the four-day festival which will take place at the Guyana National Stadium with the Fashion Extravaganza to take place at Colgrain House on the same days.
Singers Guyana Inc. donated $3 million while Banks DIH Limited handed over $2.5 Million and Digicel Guyana donated $2 Million.
Tourism Minister Cathy Hughes, has described the festival as "an exciting array of Guyanese music, arts, craft and a series of various events that will take place."
Banks Beer will be the official Beer of the Jubilee celebrations and the company also has the responsibility of hosting a series of special events for children, including Guyanese storytelling.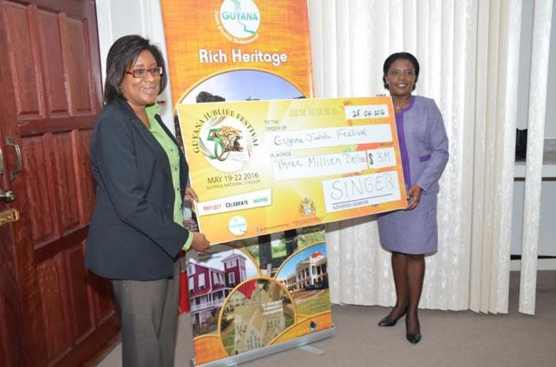 Minister Hughes expressed her gratitude to the organisations for lending their support towards the successful staging of the event. "We are very grateful that they are certainly coming forward as we move rapidly towards May 19," the Minister stated.
Banks, Sales and Marketing Executive, Carlton Joao said that Banks is proud to be a part of the Jubilee celebrations. "We have been a part of the cultural development of Guyana in every way. We are pleased to be there with the Ministry of Tourism to facilitate all that is going to be put on the show," Joao stated.
Singers' sponsorship lies in the hosting of local and foreign-based Guyanese musicians over the four-day period. Minister Hughes stated, "We are excited that with this collaboration, we are going to bring some old names and some new names to perform on the stage for the Guyanese public."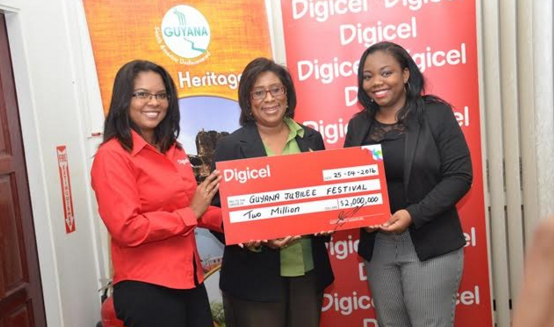 Additionally, cellphone giant, Digicel Guyana will be hosting the "Nexxt Gen Concert" which will be held on the last night of the event. The concert will provide the platform for young Guyanese to showcase their vocal talent.
Guyana Telephone and Telegraph (GTT) recently donated $1M and will host the four-day fashion show on the lawns of Colgrain House.
Additionally, Fly Jamaica Airlines has taken up the responsibility of bringing to Guyana foreign-based artistes who will be performing during the Jubilee celebrations.
Guyana will be celebrating its 50th Independence anniversary on May 26, 2016 under the theme "Reflect, Celebrate, Inspire."