Guyana's lead drug enforcement agency, the Customs Anti Narcotics Unit, is seeking the whereabouts of popular local super bike racer, Stephen Vieira, saw mill owner, Naraine Lall and West Coast Demerara businessman, Tazim Gafoor.
The three are being sought by the agency for questioning in connection with Friday night's 186 pound cocaine find in local timber that were being prepared for export to the USA.
CANU Agents moved in on Friday at Zeelugt and found the $550 million worth of the illegal substance in several timber pallets.
In a statement, CANU explained that on Friday, its ranks conducted a search at the parapet in front of premises of one Akeem Mohamed at 227 Zeelugt, East Bank Essequibo, and searched a truck laden with several pallets of 1×6 dressed lumber boards prepared for export to the USA. Several boards were drilled randomly and revealed a whitish substance suspected to be cocaine.
The truck, its driver and porters were escorted to CANU Head Quarters where a detailed search of the cargo was completed. The search revealed cocaine found in random boards scattered among genuine boards in each pallet.
According to the agency, each of the compromised boards had a dug out cavity with vacuum sealed plastic packets containing cocaine.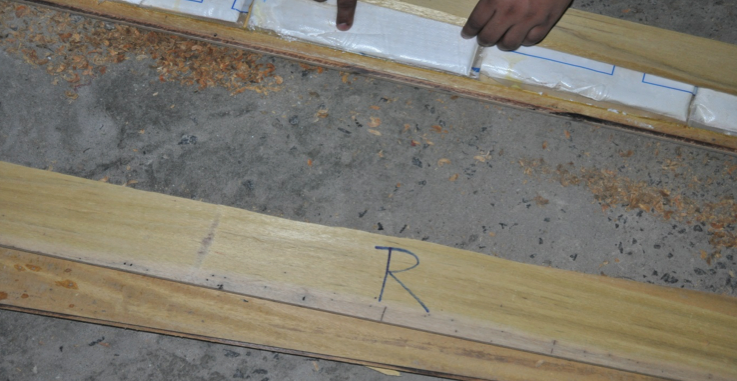 The truck driver, the porters and well known local race car driver, Nazim Gafoor, were all arrested and remain in custody.
The sawmill owner, Naraine Lall, is listed as the shipper of the timber, but checks to his house have revealed that he is out of the country.
Superbike racer, Stephen Vieira, is listed in the shipping documents as the representative of the shipper, Naraine Lall. CANU says it has so far been unable to ascertain his whereabouts. The whereabouts of businessman, Tazim Gafoor, according to CANU, have also not been ascertained.
The agency says it intends to seek official wanted bulletin for the three.