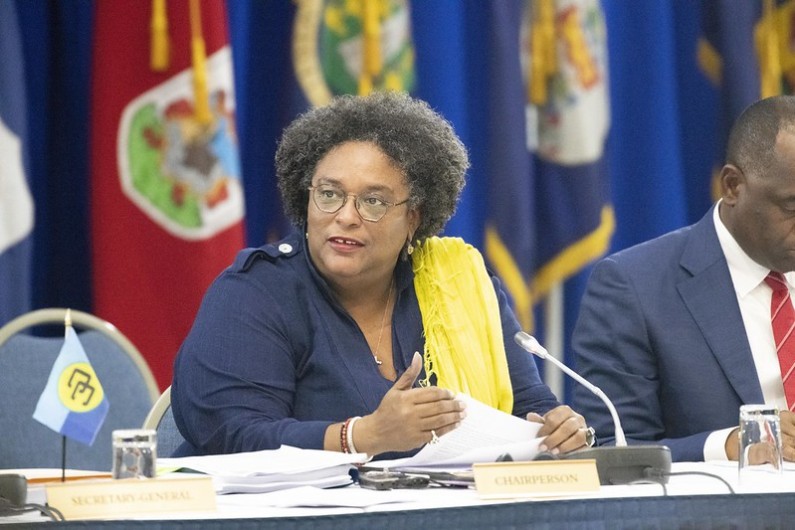 While calling on electoral officials in Guyana and the political parties to work together to achieve a peaceful and lawful completion of the electoral process, the Chairman of CARICOM and Barbados' Prime Minister Mia Mottley has indicated the readiness of the regional body to play the role of mediator between the two main political parties.
In a statement, Prime Minister Mottley said the political players and the electoral body should ensure the tabulation of the results in all Regions using the Statement of Polls in a transparent manner in the presence of the representatives of the political parties and the electoral observers.
 
 "We are very clear, every vote must be made to count; and transparently so", the CARICOM Chairman said.
 
She said she has spoken to both President David Granger and Opposition Leader Bharrat Jagdeo on the situation in Guyana. She said she told them that CARICOM stands ready to mediate as it has done in the past in many CARICOM states including Guyana.
 According to Ms. Mottley, it is critical that good sense prevails. The Preservation of law and order is paramount and All parties must work hard to ensure that there is peace on the roads and in the communities across Guyana"
She also made reference to the violent protests by PPP supporters in the Berbice region, indicating that "there has already been one death reported overnight. That is one death too many."
The young man who died was shot by the Police after he attacked two Police ranks with a cutlass, injuring them both during at Cotton Tree in Berbice last night.