A Saturday morning mass at the Brickdam Cathedral came to a pause after a man of unsound mind attacked and robbed Catholic Bishop Francis Alleyne as he presided over the service.
The entire incident was streamed live on Facebook.
Moments after Bishop Alleyne led a small congregation in singing "Yaweh is the God of my Salvation", the shirtless man appeared with an object in his hand and first shouted incoherently at the Bishop.
Bishop Alleyene and the Deacon at his side remained calm as the man walked away at first.
But he returned and made his way up to the altar where he continued to speak incoherently before whipping out the sharp object in his hand.
The man relieved the Bishop of a ring and hit him over the head as he also removed the Bishop's pectoral chain from his neck.
At one stage, the man turned to the Deacon and appear to warn him, before he continued carrying out the robbery in full view of those who gathered for the early morning mass and the camera team that was streaming the service live.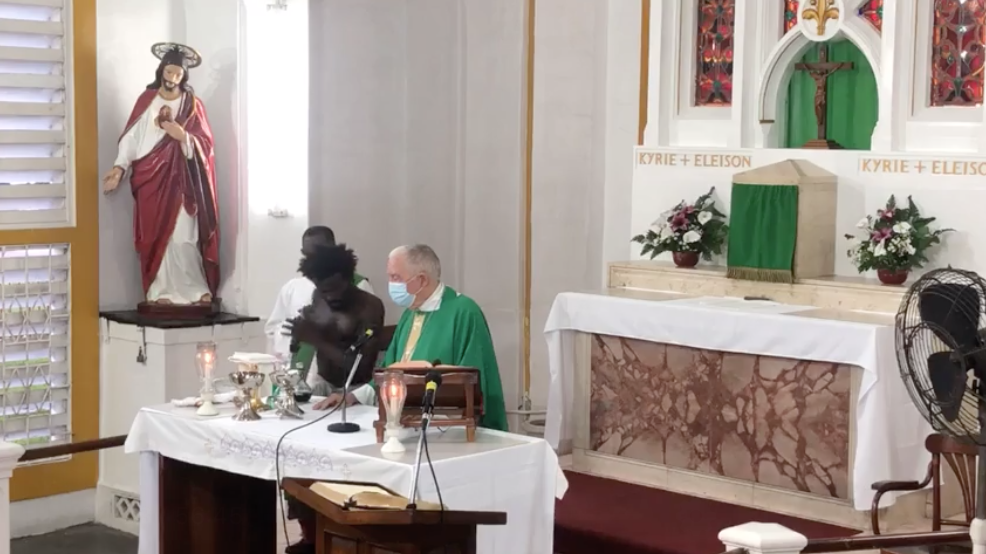 The man armed himself with the book of communion prayers before making his way out of the Cathedral while he continued to shout in an incomprehensible language.
Bishop Alleyne and the Deacon remained quietly at the altar after the incident and continued the Saturday Mass as if nothing had happened.
The Bishop then asked for a prayer to be said "for our brother", referring to the man who had just attacked and robbed him.
This is not the first time that there was an attack at the Church during a service. Some concerned members are now calling for security to be placed at the Cathedral to prevent any future incident.
A Police report was made by Bishop Alleyne just after the incident and the man has since been arrested. The stolen items have been recovered.