The Alliance For Change, which is one of the parties that make up the coalition government, maintains that Charrandass Persaud's decision to vote along with the Opposition in the no-confidence motion against the government, was an act of treachery and betrayal.
Persaud was an AFC Member and served as a Government Member of Parliament in the coalition government.
At a press conference today, AFC Chairman and Minister of Public Security, Khemraj Ramjattan, said it has become very clear that the vote by Charrandass Persaud had nothing to do with his conscience, but rather by other factors that were beneficial to him.
"The deduction must be made that Bharrat Jagdeo had Charrandass in the bag for some time before they could have come with a No Confidence Motion. It is inevitable that that deduction be made", Ramjattan told the media.
He said the AFC had no idea that Persaud would have voted his own government. "He even wanted to speak during the debate on the motion", Ramjattan said, as he noted that Persaud's vote represented betrayal in its worst form.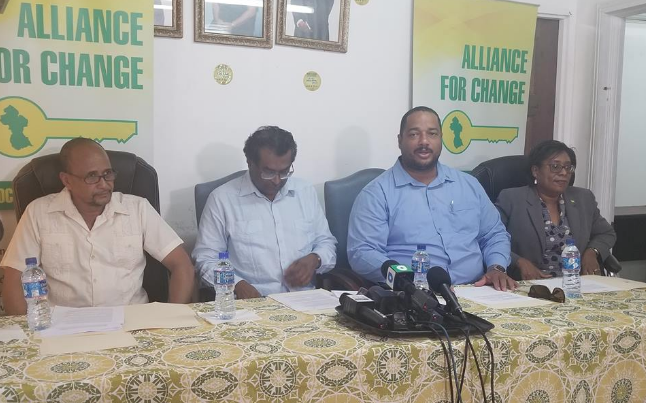 Questioned about Persaud's dual citizenship, which now forms part of a legal challenge to the no-confidence vote, Mr. Ramjattan said Persaud had declared to the party that he was only a citizen of Guyana and they never doubted him.
He admitted that in hindsight, perhaps more information could have been sought.
AFC Vice Chairperson, Cathy Hughes said of all of its Members of Parliament, it was only Minister Dominic Gaskin who made it known that he was born outside of Guyana but got his Guyanese citizenship by descent. He never pledged allegiance to any other country, she said.
Moving forward, the AFC still thinks it is in a strong position in the coalition government and will continue to work along with its coalition partners.
The party intends to head into the next elections as part of the coalition and indicated that it will be ready for those elections, whenever a date is announced.