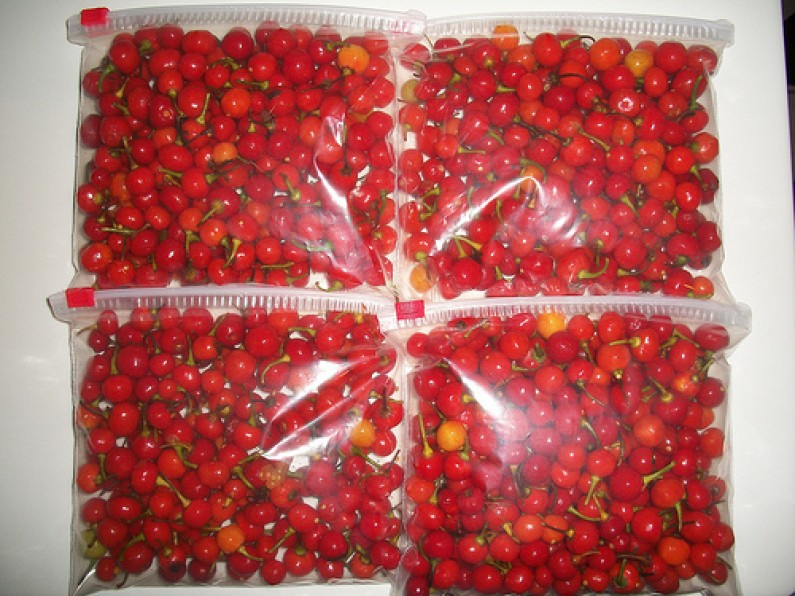 Drug enforcement agents in Guyana are working along with their Trinidadian counterparts to track down a man who was able to ship over 80 pounds of cocaine out of Guyana through the Cheddi Jagan International Airport on a Caribbean Airlines flight. The drug bust was made in Trinidad and Tobago on Friday. The cocaine was found in a shipment of wri wri pepper that was destined for New York.
According to reports out of Trinidad and Tobago, the shipment successfully made it through the scanner system at the Trinidad airport and was only picked up by a sniffer dog. Sources close to the investigation have revealed that the shipper was able to put together a rather unique way of getting the cocaine out. The powdered cocaine was reportedly placed in tiny plastic bags which were painted in red and made to look like wri wri peppers.
Small pepper stems were attached to the top of the tiny drug laden plastic bags to give it the pepper look.
Agents in Guyana who searched the shipment did not notice the small pepper looking packs of cocaine. And agents in Trinidad were also duped initially.
A Drug enforcement agent in Guyana said there was no way agents could have imagined cocaine being taken out in that manner. The Guyana Customs Anti Narcotics Unit is now looking for a Kitty resident to question him about the shipment.
The man's name has been given as Caleb Caesar and he is the relative of another man who was linked to and charged in connection with another drug shipment in 2012.
Officials at CANU have said they are working closely with their Trinidadian counterparts on the investigations. All weekend the agencies from Guyana and Trinidad have been discussing the probe.
Over the past year, cocaine has been busted in fish, timber, weave and vegetables from Guyana. The United States has listed Guyana as a drug transshipment point for cocaine heading out of South America for the U.S and Europe.
(PHOTO is a file photo)