Agents from the Police Force, the Customs Anti Narcotics Unit and the Guyana Police Force have launched a massive investigation after a large quantity of cocaine was found on a vessel that arrived in Guyana from Suriname.
The vessel MV Deltadiep, was being tracked in the Demerara river since it arrived from Suriname. It was in Linden being loaded with bauxite destined for Europe when the bust was made.
News Source understands that dozens of law enforcement agents swarmed the bauxite town of Linden and the ship late on Monday evening and made the multi million dollar discovery.
Over 200 pounds of cocaine was found in one of the containers on the vessel. That container has since been taken to Georgetown where the illegal substance is being offloaded and weighed. Initial reports indicate that the cocaine has a street value of more than US$13 Million.
The agents may have  been given a tip off about the movement of the ship with the cocaine. There are reports that the investigators believe the cocaine may have been sent to Guyana for distribution among local drug barons for their own distribution to other markets.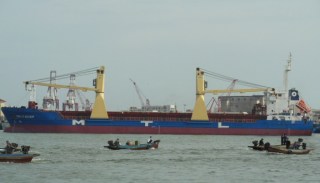 Filed: 6th January, 2015