Police and Fire investigators in Linden intend to return to the scene of  the Friday night fire that gutted the Richmond Hill home of former Guymine Chief Executive Officer and Member of Parliament, Dunstan Barrow.
Barrow's Linden home which was unoccupied at the time, was completely gutted even as fire fighters tried their best to save the building. Just after 9 o'clock on Friday night, persons in the area said they noticed smoke emanating from the building and they immediately summoned the fire service.
The entire Barrow family now lives in Georgetown, but would visit the house from time to time once they are in the Linden community. Dunstan Barrow's son, Dunstanni, told News Source that although there was no security at the property, there was a caretaker who would visit the house once per week  to ensure that all was well.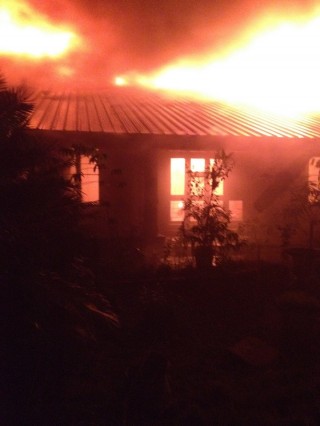 Investigators suspect that the fire may have been the work of an arsonist. There was no power supply to the building and a neighbour has reported that someone believed to be a "junkie" (drug addict), was seen running from the house  moments before the entire building was engulfed in flames.
One person in the area reportedly gave chase behind the suspect but was unable to catch up with them.
It is believed that the family has lost millions of dollars in household and other items in the blaze.
The ranch styled house was well-known in the past for hosting visiting dignitaries and government officials while Mr. Barrow served as the Chief Executive Officer of the bauxite company.
Barrow was recently appointed Chairman of the Linden Enterprise Network, but still continue to live in the nation's capital.
..