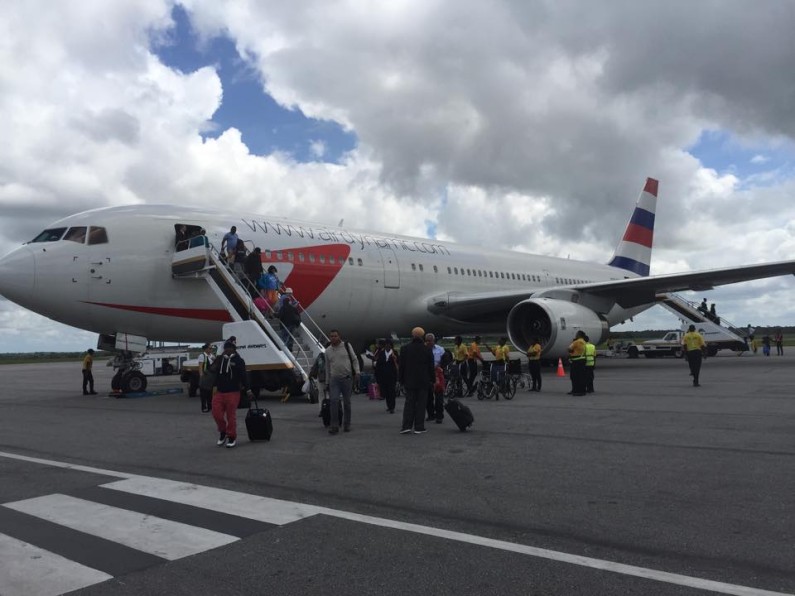 US based airline, Dynamic Airways returned to the Guyana market on Saturday morning (November 22, 2014) with a direct flight from New York's JFK Airport.
The flight touched down over three hours after its expected arrival time. That late arrival was blamed on a late departure from JFK which was not explained.
The airline will be operating up to four weekly non-schedule flights between Guyana's Cheddi Jagan International Airport and New York's JFK Airport.
Just over a week ago, the Guyana Civil Aviation Authority granted the carrier full permission to begin its service. Officials at the GCAA explained that they wanted to ensure that the carrier was granted full US permission before they gave clearance. The US Department of Transportation granted the carrier approval for its service to Guyana in October.
Dynamic was forced to suspend its service to Guyana in July, less than one month after it began its operations to the market. That suspension was as a result of the airline not being granted full approval at the time from the US Authorities to operate out of New York's JFK to Guyana.
The airline's ground handling will be handled by Roraima Airways while Travelspan Travel agency has entered an arrangement to buy bulk seats on each flight and market those under the Travelspan brand. The airline is currently offering fares between New York and Guyana for under US$600.
Filed: 22nd November 2014