President Ramotar on Friday visited several communities and drainage infrastructure along the East Coast of Demerara to assess the flood situation and to also see the efforts that were being made to drain flooded areas. Grove.
Georgetown and several communities along the East Coast and East Bank of Demerara were flooded on Thursday as heavy rainfall pounded the coastlands. Schools and businesses in Georgetown were forced to close their doors as a result of the flood waters.
Flood water remained in some communities on Saturday morning even with a break in the rainy conditions.
During his visit to the East Coast, the President noted that a lot of people have suffered due to the heavy rainfall, but said he was assured that the Public Works officials, and others responsible for drainage and irrigation, are doing everything possible to alleviate the problems encountered.
"We will continue to follow it to see that we bring some ease to the situation as fast as possible".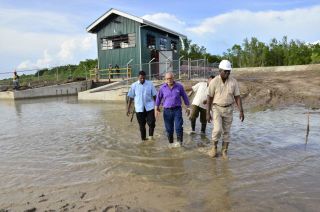 The Agriculture Ministry said that significant rainfall is expected in the next 72 hours that will result in flooding conditions.
According to the Government Information Agency, "despite a large amount of water receding after the record breaking rainfall, the team of officials which comprised, Public Works Minister Robeson Benn, Head of the National Drainage and Irrigation Authority (NDIA), Lionel Wordsworth, and other officials and engineers were busy ensuring that all pumps and drainage outfalls were working optimally to provide relief."
On Thursday, Minister Benn reminded that the drainage systems located on the Coast are designed to take off 1.5 inches of rainfall in any 24- hour period, hence the reason for the significant flooding.
"We have 5 or 6 percent more than the normal rainfall that can be handled through the drainage infrastructure on the coast …given the difficulty of excessive rainfall, we expect over the next two to three days, there will still be water on the ground…we are not the only affected country, you might know that there is this low pressure system also hanging over Trinidad which resulted in significant flooding in that country," Minister Benn said.
The Leader of the Opposition, David Granger, has called on the  government to put in place a comprehensive flood plan to effectively tackle the problem. He said his party has been pressing the government to do just that over the years but those calls have gone unheeded.
Filed: 22nd November, 2014