Dynamic International Airways has joined the celebrations for Guyana's golden jubilee with the unveiling of the logo for the national celebration as well as the New York celebration on its aircraft.
The U.S registered airline currently operates a number of weekly flights between New York and Georgetown. It has been in the market for the past two years and according to Captain Gerry Gouveia, who represents the airline's interest in Guyana, Dynamic remains committed to the market.
Speaking at a mid-morning, logo unveiling ceremony at New York's JFK Airport, Captain Gouveia reminded that Dynamic has always sought to better represent the interest of Guyanese. He said the airline currently has 35 Guyanese flight attendants on board its flights even as it prepares to further expand its wings.
He said over the past months, the carrier has improved its on time departure and arrival record and is also seeing growth in the number of travelers using its service.
The Chief Operating Officer for Dynamic International, Ms. Karen Kraus, told the ceremony that the airline is proud of its partnership with Guyana since "it is not just a partnership but has truly become a friendship. And we are committed to the longterm support of the people of Guyana and we are committed to providing affordable flights to bring people back and forth between New York and Guyana."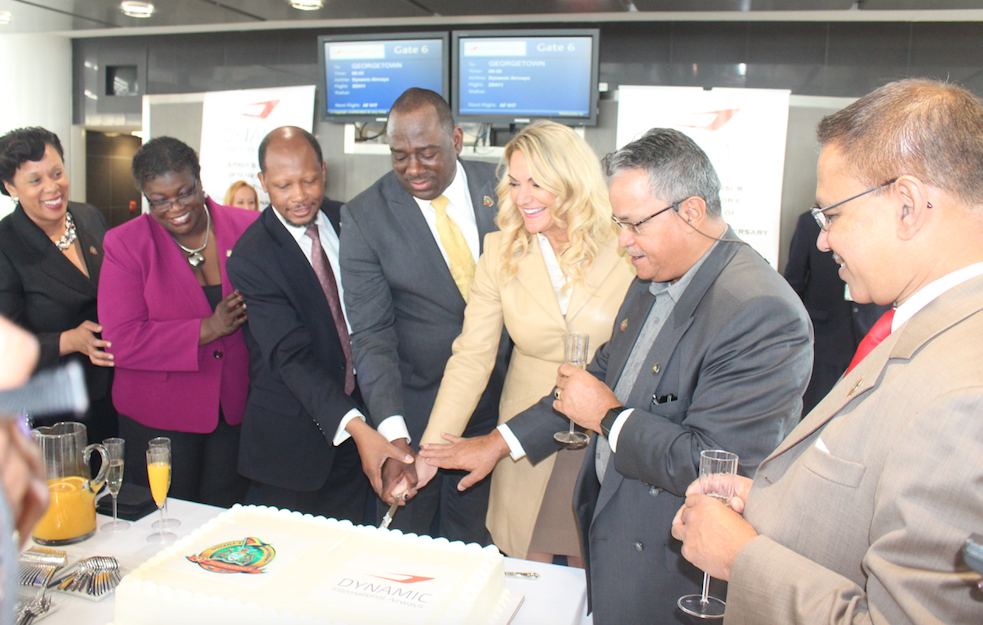 She said Dynamic will also continue to employ Guyanese for its service.
The Airline will be supporting many of the New York activities to mark Guyana's jubilee celebrations. Those activities will take place in the month of June, following the official events in Guyana.
Chairman of the Guyana 50th Anniversary Committee in New York, Rickford Burke, saluted the airline for its partnership with the committee and its ongoing commitment to the people of Guyana through air travel. He said he is pleased that the committee will be working along with the carrier as Guyanese in New York and at home celebrate the Golden Jubilee.
Representing the Government of Guyana at the event was the Permanent Representative to the United Nations, Ambassador George Talbot.
He spoke of the importance of air travel to development across the world. Ambassador Talbott said he is happy that Dynamic has decided to recognise golden milestone. Mr. Talbott thanked the airline for its service even as he recalled its rocky start-up and he also thanked Captain Gerry Gouveia for being the face of the airline in Guyana.
"You have persisted and demonstrated characteristics of Guyanese tenacity and my hope and Guyana's hope is that you will continue as a partner", the Ambassador said.
The airline is also expected to support a  number of other initiatives and events as Guyana celebrates its Independence milestone.