The new Cheddi Jagan International Airport is on schedule to be completed by the end of this year. It is currently undergoing US$150 million in expansion works.
When completed, the terminal building area will increase from 13,431 to 13,737 square metres, checking counters will be increased from 20 to 32, and the runway length will be increased from 10,066 metres to 10,090 metres.
Additionally, there will be two passenger boarding bridges for arrivals and departures, a 450-seating departure area, escalators and elevators in addition to its extended runway catering for larger categories of aircraft.
On Saturday, during a tour by the President, Prime Minister and other Cabinet members, the Minister of Public Infrastructure, David Patterson explained that the project is now entering the 'third fix stage', which will allow for the first set of final touches to be applied. He said as it enters that stage, the input of the Cabinet is welcomed.
In brief remarks, President Granger encouraged the management and staff of Airport to commit to ensuring that efficiency, high standards and quality service complement the new airport, as it prepares to welcome an increasing number of investors, tourists and the traveling public.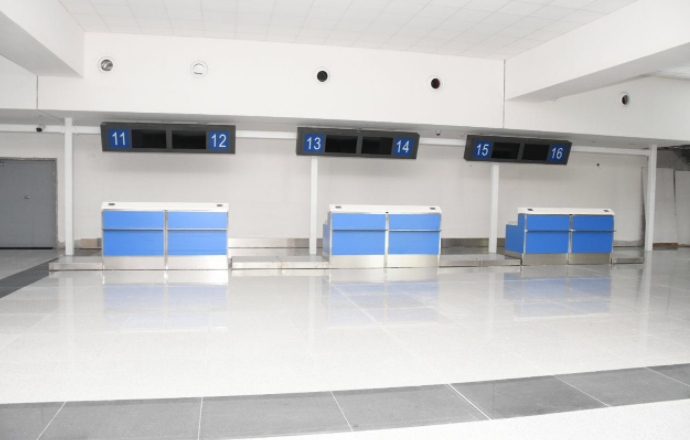 "This is the entry point for the modern state. It is very important to our development. Infrastructure would attract tourists and now that we are embarking on a new industry people would want to come in their numbers and they should be coming to Guyana at a modern airport. In time to come, we should be able to put a time on visitors, meaning that no visitor should be able to spend more than ten minutes in the airport. We need an efficient service so that as soon as someone lands, they can be on their way, of course after satisfying all security requirements. We need to plan for the future," he said.
President Granger said that the project is not an ornamental one but is rather, a key element in the development of the entire country. "It will be very functional and it is very important to the future development of our country. It is the gateway to the 'green' state and I hope these can be reflected in the murals so that it can showcase the character of the country. It is also a gateway not just to the Caribbean but South America as well, so it is an important cultural statement as well. From a functional point of view, a major problem in Guyana is the absence of adequate infrastructure and many people do not come to Guyana because it is very bothersome because there are a few direct flights and so this is very functional," the President said.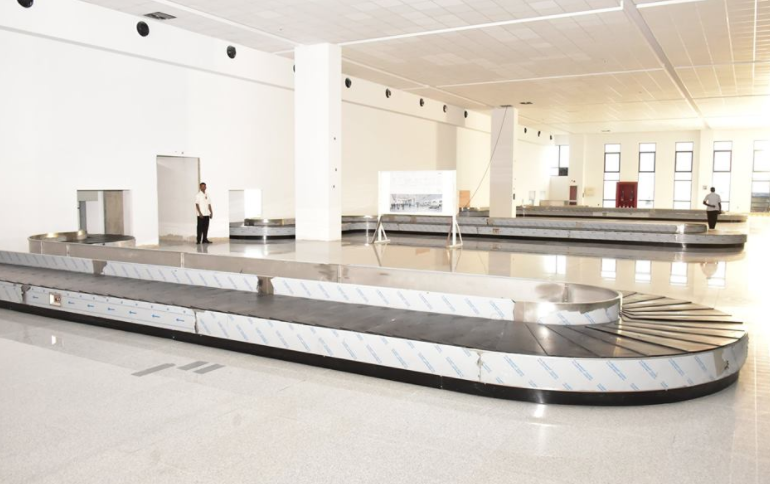 Noting that it is a historic moment as this is the first time in over 50 years that work on such a major scale has been undertaken at the facility, President Granger said that it is a day to be acknowledged and all Guyanese must be proud of.
"This area was given by the United Kingdom to the United States 75 years ago for the establishment of a base and the aircraft coming from North Africa would land here. The aircraft would take off from here to protect the bauxite ships, which were taking bauxite from here to Chaguaramas to build aircraft for the Americans so Guyana played an important and this was called Atkinson Field.  When we gained Independence, it was given back to Guyana as an Independence gift. The main building burnt in 1959 and when the Government changed in 1964, we got a new terminal building but this is now the first change to be made since then so we are standing on history," the President said.
The project was originally slated to be completed in December 2017, but according to the Public Infrastructure Ministry, there were numerous challenges, which affected that deadline.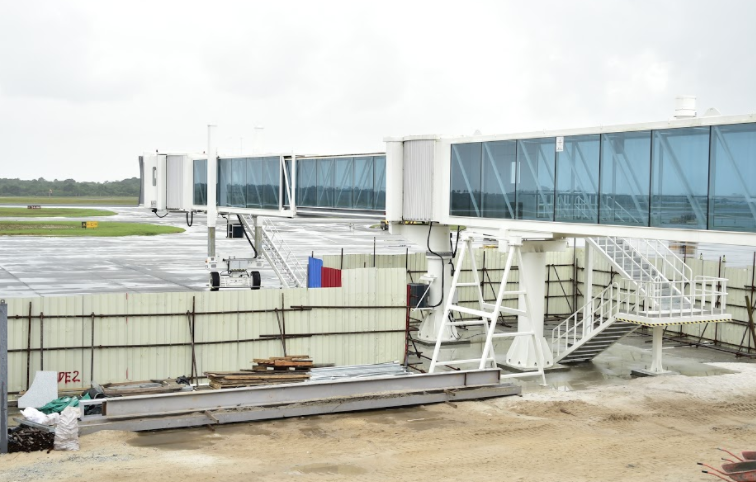 The Ministry announced yesterday that the new arrivals terminal building, generator building, pipe installation, pump station and water tank, boarding corridor and passenger boarding bridges will be completed by the first quarter of the year.
Works on the Check-in and Departure lounges and the first phase of the Departure terminal, Screening and VIP areas and the South West runway will be completed by June month end. All other works will be completed by December 2018.