Eight men have been taken into custody by the Guyana Police Force after they were nabbed with in the Barima River, North West District with two AK-47 rifles along with matching rounds. The men were also found with a bullet proof vest and other supplies.
According to reports, a joint Police and Guyana Defence Force patrol intercepted the men in two boats. When searches were carried out, the guns and ammunition along with marijuana were discovered.
The arrests took place early this morning and it is suspected that the men may have been making their way to the gold mining areas to carry out robberies.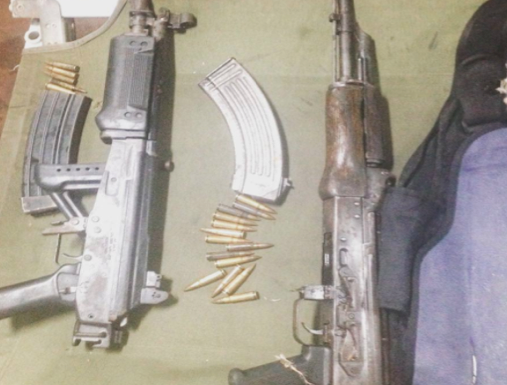 The eight arrested have been identified as 19-year-old, Junior Jack, 38-year-old Donstant Rodrigues, 25-year-old Samuel Alvaroz, 49-year-old Shawn Phang, Kaituma, 44-year-old  Dexter Valensuela, 48-year-old Corwin Griffith, 53-year-old Delroy Mairs ,  33-year-old Rafael Ramon and 62-year-old Carrigon Khan, age 62 years.
Most of the men are from the interior region. Three of them are foreign nationals, believed to be from Jamaica, Cuba and Venezuela. A number of them are also boat captains who know the area well.
Investigations are ongoing.