by Anthony Glasgow
As the wait continues for the release of the official results from Monday's Elections, the European Union Observer Mission today expressed its concern over the lack of legislation to address campaign financing in Guyana.
At a press conference this morning, the Head of the EU Observer Mission, Urmas Paet, said it was observed that there was no transparency from political parties, especially the two major political parties about the financiers of their campaigns.
While reading from the EU's preliminary findings, the official said "the legal framework does not provide for transparency and accountability in a political party and campaign finance. Parties and candidates raise funds from private sources in-country and abroad, without any limitations regarding the sources or amount of donation, and with limited obligations to disclose sources of funding or report on expenditure. The campaign demonstrated that APNU+AFC and PPP/C have significant funds to their disposal , unmatched by any other party. With the implicit consent of the main contenders, GECOM does not assume its oversight responsibility to monitor campaign finance." 
He further stated that, "there are a few sentences in the legislation but I'm not sure that they are followed so that basically nobody knows who finances Elections campaigns, what is the reason why they finance these electoral campaigns and also what would be a politically possible outcome of this kind of financing of politics and finances of political campaigns."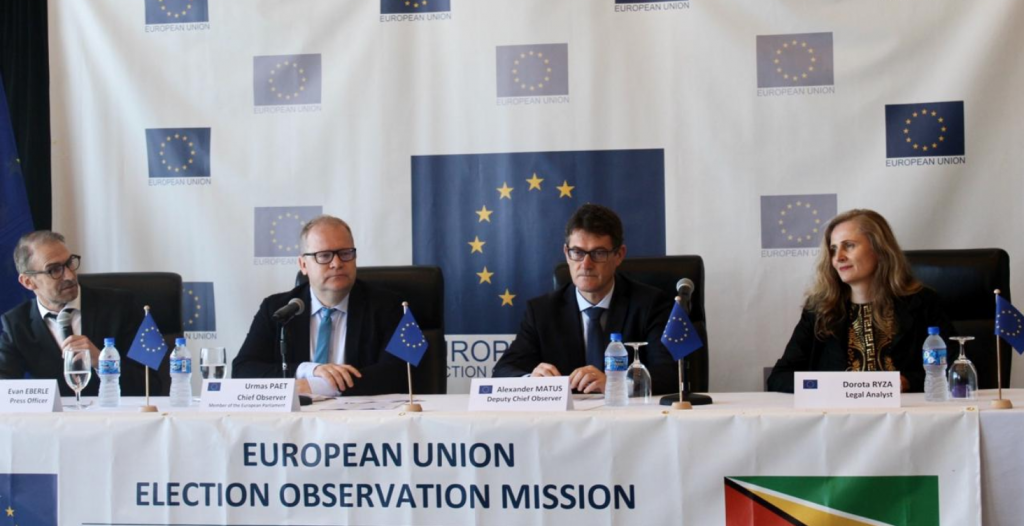 The Chief Observer also noted that generally outside of this particular issue, the elections were very competitive, and he noted that some of their main concerns outside of campaign financing were issues related to the state media and legal uncertainty and lack of transparency in the administration of elections. 
The team also noted that they observed that the voting process was well managed and the electors were able to vote freely and exercise their democratic right to vote at the General and Regional Elections.
The EU team was able to observe polling places in all 10 administrative regions in Guyana.
"EU observers assessed the process very positively although some procedural safeguards were not consistently applied. Counting was conducted in a transparent manner! But reconciliation procedures were not always followed. In the absence of clear, written instructions, the mission noted inconsistencies in the results transmission and tabulation process." 
The Head of the EU Mission said he was pleased with the number of young people who came out to vote and the turnout by young voters illustrated to him that young people are integrally interested and involved in politics in Guyana. 
The EU noted that in 3 months they will return with an official report to which they will detail their recommendations for future elections. That official report will also include more detailed suggestions about GECOM's tabulating mechanism that is largely manual.