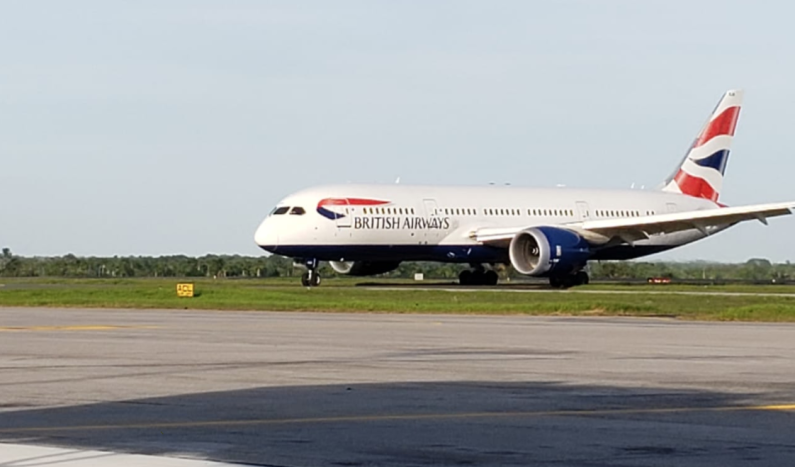 A British Airways 787-8 Dreamliner Aircraft touched down at the Cheddi Jagan International Airport this afternoon with rotation workers on board for the ExxonMobil company. The non-stop flight from London took just over 8 hours.
Aviation officials have indicated that the flight was granted special permission to touch down at the Cheddi Jagan Airport following a request from the oil company. Guyana's two international airports are closed as part of the measures to fight the coronavirus.
The ExxonMobil workers who arrived on the flight will be subject to 14 days of quarantine in keeping with Public Health requirement before they are allowed to head out to the Exxon offshore facilities.
According to Public and Governance Affairs Advisor at Exxon, Janelle Persaud, the company has well-established processes in place to manage impacts related to infectious disease outbreaks.
"We are taking the necessary steps to maintain a healthy workforce here in Guyana. As such, rotational workers are medically screened prior to their travel to Guyana and are appropriately screened and isolated locally for the required period before going offshore. Of course, we continue to provide screening at the Ogle Heliport even as there are medical personnel onboard our vessels to monitor the health of the workers and provide suitable treatment and care", she explained.
The special charter flight will also be taking out those overseas-based Exxon workers who have completed their rotation in Guyana. It is the first time in decades that a British Airways flight has made the journey to the Cheddi Jagan Airport.