An early evening fire of unknown origin ripped through a section of the Comfort Sleep storage bond and a bond belonging to the Payless store on Wednesday at the Eccles Industrial Site.
Firemen were called to the scene just after 7 pm when persons in the area raised an alarm after seeing heavy smoke bellowing from one of the buildings. The main storage bond for the Comfort Sleep mattress company was not affected. However, from all appearances the Payless bond which was located in the same building was completely destroyed.
One of the managers at Comfort Sleep Amanda Fung said they were left dumbfounded when they got news that there was a fire at the facility. She said no one was in the bond at the time and all workers had already left for the day.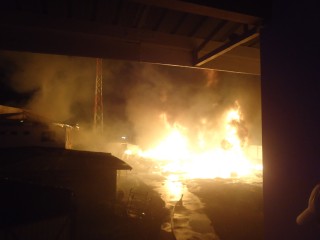 The visibly shocked young lady explained that the bond which was gutted was used for the storage of raw material used for the manufacturing of mattresses.
Losses are estimated to be in the hundreds of millions of dollars.
The Guyana Fire Service responded promptly to the emergency call but faced major problems sourcing water in the industrial area which has several manufacturing businesses. Water had to be eventually sourced from some heavy duty black water tanks belonging to a nearby company and a drain in the area.
The firemen were able to contain the blaze to the one compound.
The fire at the Comfort Sleep bond came on the same day that one of the daily newspapers carried a full feature story on the company's growth over the years and how management was able to build on its successes over the years to become one of the leading manufacturers of mattress in Guyana and the Caribbean.
A probe is  underway into the Wednesday night blaze.